On Sunday, October 25, the Kansas City Chiefs will host the Pittsburgh Steelers for a 12 p.m. kickoff in the club's sixth game of the 2015 regular season. The game will be broadcast locally on CBS (KCTV5) in the greater Kansas City area.
Working in conjunction with the Missouri Department of Transportation, the Chiefs are reminding all fans who are planning to attend that there will be increased traffic throughout the city due to the outbound weeknight commute. Thus, fans should expect delays and traffic congestion that they don't normally experience for Sunday contests.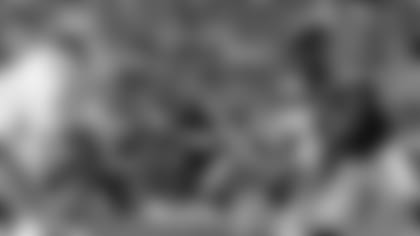 To assist with the overall flow of traffic, the traffic configuration at the Stadium Drive, Manchester Trafficway/Raytown Road intersection west of the Truman Sports Complex has been changed. Those changes include:
Stadium Drive Eastbound Traffic: Fans traveling eastbound on Stadium Drive must turn right on Raytown Road. Motorists with a parking pass will be directed to Gate 5 and those with cash will be directed to Gate 4.
Manchester Trafficway Southbound Traffic: Fans traveling southbound on Manchester Trafficway will be able to turn left onto Stadium Drive or stay straight which becomes Raytown Road. Fans who stay straight onto Raytown Road and have a prepaid parking pass will be directed to Gate 5 and those who are paying cash will be directed to Gate 4. Those that turn left onto Stadium Drive will be directed to Gate 6.
Raytown Road Northbound Traffic: Fans traveling northbound on Raytown Road must turn right onto Stadium Drive.
Please click here for a map illustrating this new configuration outside of the stadium.
The Missouri Department of Transportation is continuing bridge rehabilitation work on Stadium Drive near Gates 6 and 7 on the north side of the Truman Sports Complex. One lane will be closed in both the eastbound and westbound directions between Raytown Road and Route 40. Fans should plan for additional travel time if their route will take them along Stadium Drive.
Fans are encouraged to arrive as early as possible and review the Chiefs parking operations that were introduced for the 2014 season. These modified parking features will be in effect for all games at Arrowhead Stadium and include:
There will be no cash parking at Gate 5.
Only guests with prepaid parking passes will be allowed to enter through Gate 5. Prepaid parking can be purchased for $27 at the Chiefs Ticket Office or by calling (816) 920-4237.
Fans First Booths will be located throughout the parking lots at tent locations while representatives from the Fans First Booths will be navigating the parking lots on golf carts to provide assistance to guests.
All traffic will flow in a counter-clockwise direction on Dubiner Circle (all traffic moves to the right).
Parking gate entry and type of parking pass will determine the parking lot a vehicle will park in (cars will be directed to the nearest lots with spaces available).
Individuals who wish to park multiple cars nearby in the same lot are encouraged to arrive through the same gate entrance at the same time in order to secure close parking spots.
All fans are asked to maintain a clear aisle by containing all tailgate equipment to an eight-foot area behind each parking space. This will allow a space that can accommodate emergency vehicle traffic and ensure that cars can safely be directed to all available parking spots.
---
Kansas City Chiefs vs the Pittsburgh Steelers on December 21, 2014