It's been a long wait for Kansas City Chiefs cornerback Phillip Gaines.
Before Wednesday, when he took the field for the team's very first practice of training camp, the last time he had participated in any team activity was late September during a Week 3 loss to the Green Bay Packers on Monday Night Football.
Gaines left during the first quarter of that game with a torn left ACL, and with the injury came a long road of rehabilitation ahead.
Now, nearly 10 months later, he says he's close to finally feeling 100 percent.
"I'm definitely climbing towards that way," he told the media after practice Wednesday. "There's definitely some rust to knock off, but if feels good to be able to come out here and run around with everybody. And it's my first time playing football since the Green Bay game, so this feels good to be able to have the opportunity to play, and I'm going to try to make the most of it."
While Gaines did participate in both OTAs and mandatory minicamp, it was only on a limited basis. Wednesday marked the first time since last year that he was able to partake in any "team-based" activity, such as seven-on-seven drills.
Especially given the fact that it was the first real action for Gaines in a long time, head coach Andy Reid liked his progress.
"Gaines practiced today and did a good job," Reid said. "He moved around great, took a lot of reps. I'd say he's put on a little weight and strength. I was happy with what I saw. He competed."
Wide receiver Mike Williams, who faced off one on one with Gaines a number of times during practice, agreed with his head coach.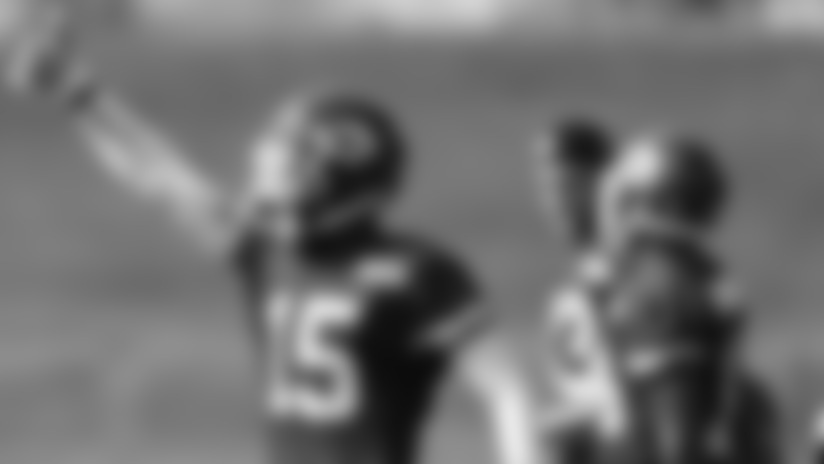 "He's good, real good," Williams said of Gaines. "Going against him, he was in the training room a lot and now we're back out here. I've been wanting to see him and now that I see him, I understand why he's here."
After offseason workouts heading into training camp, Reid said that when it was "all said and done, [Gaines would] probably be the guy at the (right) corner spot."
But that vote of confidence apparently hasn't stopped Gaines from trying to improve all parts of his game, and that includes physicality. He arrived to camp weighing 188 pounds Tuesday, roughly seven pounds heavier than last season by his own account. 
"It's just a combination of me getting my lower body right," he said. "Coming off an ACL, you can't really work your legs, so you just stay on your upper body, but when you get a chance to work on your lower body, you kind of fill back out, so I think it's just a combination of that."
That extra weight could only help his confidence for the next two practices leading into Saturday, when veteran receivers Jeremy Maclin, Albert Wilson and Chris Conley are added to the mix.
10 months is never an amount of time a cornerback wants to take off, but Gaines believes that the free time may have actually made him an even better player.
"Any time you take a step back from something that you're doing for a long time, you always are going to reevaluate things," he said. "You find a new love for it, you find a new drive.
"[When] people [are] doubting, people thinking that you can't come back, and [you think of] all the hard work that you put in for so many months when nobody's watching, you just want to get out there and prove yourself."
At the podium Wednesday, Gaines gave off a combination of thankfulness and confidence.
He's waited a long time for this, and come Saturday, everybody will be watching.