KANSAS CITY, Mo. — As Alex Smith was walking off the practice field, a member of the Chiefs communications staff intercepted him, the two of them huddling just out of earshot of reporters.
Moments later, when Smith stepped in front of the cameras, the first question he was asked was whether the new contract that Bengals quarterback Andy Dalton had signed would have any impact on his own negotiations for an extension to remain in Kansas City beyond this season.
"To be honest, I had no idea they were even talking," Smith said. "I just found out walking off the field, just to give me a heads up because I'd probably get asked it. So other than that, I've got nothing for you. I don't know anything about it."
Still, the timing of the deal was not lost on the veteran quarterback.
"I'm focused out here on camp, getting better. We've got a game on Thursday," Smith said. "It happens to be against those guys. But other than that, sorry."
Yes, Dalton and Smith will both be in the spotlight on Thursday night — well, for as long as they play — when the Bengals visit the Chiefs in the preseason opener of both teams. Dalton will begin proving he deserves his lavish new deal; Smith will continue proving he deserves his own.
"I don't think it's really any added pressure," Dalton said, "because I expect this team to play better. I expect myself to be better. We have high expectations for what we're trying to do this year, and so regardless of the contract, I would have expected to go into the season with the same mentality and same attitude. We want to be really successful."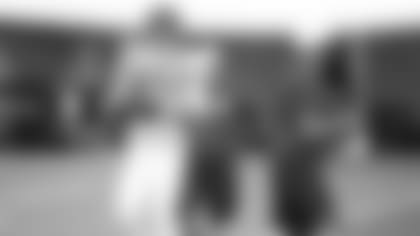 The Bengals have certainly been successful since Dalton took the reins. They won nine games his first season, 10 the next and went 11-5 last season. Each year, they made the playoffs.
Of course, they still haven't won a postseason game, going 0-3 over that stretch. And ending that futility — the organization hasn't won a playoff game since 1991 — may be the only thing that proves to cynics that Dalton deserves the team-friendly deal that could keep him wearing black and orange through the 2020 season.
"When you come in as a rookie, it's easy to say, 'Yes, I'm the quarterback. Now I'm the leader of the team,'" Dalton said. "But you're sitting in the huddle with guys that are 34 years old, and that point I was 23. It's different now, because I have played and played at a high level. You have credibility with the guys because of the experience I have."
Smith earned the same credibility in Kansas City last season, helping a team that was 2-14 the year before his arrival go 11-5 and make the playoffs. Along the way, he threw for a career-best 3,313 yards with 23 touchdowns and only seven interceptions.
It was that performance — not to mention his 30-9-1 record as a starter the past three years — that convinced the Chiefs they wanted to sign him to a long-term deal.
They've been negotiating with his representatives for months, and while the sides are still far apart, Dalton's contract could provide one more reference point in getting it done.
"There's communication going on," Chiefs coach Andy Reid said. "That is the important thing. Alex is a good football player and he's great for this team. We're lucky to have him here. They are working through it and we'll see what happens. These things take time."
Every day that passes, though, the new season draws near.
Just like the Bengals, the Chiefs are trying to end a lengthy playoff slump. When they blew a 38-10 second-half lead in a 45-44 loss to Indianapolis last season, it kept Kansas City winless in the postseason since 1993 — six head coaches and countless heartaches ago.
In other words, Thursday night's preseason opener couldn't come soon enough.
Both teams will play their starters at the onset, and both will likely give way to backups by the second quarter. That should give plenty of players a chance to prove what they can do.
"The important thing is you want to work your things and get your young guys the experience of going out there and playing. I think that's important," Bengals coach Marvin Lewis said, "to get them immersed and playing football competitively against another color helmet."