The Kansas City Chiefs have trotted out one of the best special teams units in all of football over the past four seasons, and if De'Anthony Thomas' performance on Friday night was any indication, that trend should continue.
Thomas fielded a kickoff midway through the second quarter of Kansas City's preseason loss to Seattle and dashed 95 yards for a touchdown, pulling the Chiefs within three at the time of the score.
For Thomas, his strategy on the play was simple.
"Beat him," Thomas said. "I used my speed to get to the edge and from there on, just finish it."
The return was an encouraging sign for Thomas, who will likely handle the majority of kickoff returns this year with Tyreek Hill transitioning into a larger role on offense, though returning the ball is nothing new for the fifth-year professional.
Thomas has brought back 35 kickoffs so far in his career, averaging 25.8 yards per return, the 11th best mark in football since 2014 among players to return at least 30 kicks. In fact, Thomas actually had more kickoff returns last season (15) than Hill did (14).
Thomas' mark extends beyond just returning the football as well, as he's developed into a valuable contributor as a gunner on special teams.
"He is pound-for-pound one of the toughest guys we've got and it holds true," said Special Teams Coordinator Dave Toub last week of Thomas. "He has a nose for the football. He told me before the season started that he's going to make all the tackles on kickoff. You love guys like that."
It's an interesting dynamic for the 5-foot-8, 176 pound Thomas, who excels at both flying by defenders on returns and making tackles on kickoffs.
"It's different in all aspects," Thomas said. "It's tough going down there as a gunner when you know you have guys trying to block you and stuff like that, but I just go out there and try to make plays and just understand what's going on. I listen to Coach Toub. He's one of the best in the business and I feel like he's turned me into a different player."
Thomas is no stranger to taking on a variety of different roles for Kansas City. Since 2014, he's one of just three players to handle 20-plus carries, make 40-plus catches, return 60-plus punts and 30-plus kicks, along with Miami's Jarvis Landry and New Orleans' Ted Ginn Jr.
Thomas' versatility hasn't gone unnoticed by Chiefs Head Coach Andy Reid.
"He's played a little bit of everything," Reid said. "He's played outside receiver and slot receiver. He's really done all the special teams and almost turned into a core special teams guy and he's doing a nice job on returns. For a smaller guy, to make the plays and to play as physically as he does, is really something."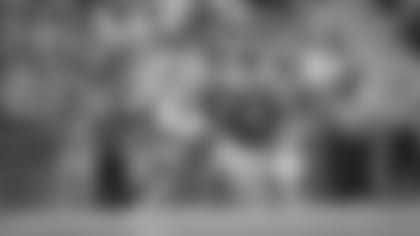 Now a veteran in the league, Thomas is looking beyond his own personal performance and wants to make his teammates better.
"I feel like I'm working my way to be a captain on special teams and just spark and motivate the other guys," Thomas said. "We want to go out there and just make plays whether its punt, kickoff return or any of those phases."
Catch Thomas and the rest of the Chiefs in action on Thursday as Kansas City closes out the preseason against the Tennessee Titans at Arrowhead Stadium. Kickoff is at 7:30 p.m. CT on KCTV5 or 101.1 The Fox.