On a night where the offense racked up over 400 total yards and 30 points, it might be easy to overlook a stout defensive effort in which the Chiefs surrendered only four field goals on the evening.
"I thought our defense, that first group, was outstanding," Head Coach Andy Reid said. "They challenged, they had a couple break ups and (the Bengals) were going to come in and try to run the ball too and we were able to kind of secure things up there."
Kansas City held Cincinnati to just 257 total yards after allowing 434 yards to San Francisco in the preseason opener, and allowed just four third down conversions in 14 tries. Two of those third-down stops occurred in the red zone, forcing field goals.
For context, the Chiefs held opponents to 260 yards or fewer twice last season, doing so against Oakland on Dec. 8 and Denver on Dec. 25.
The defensive front was particularly effective, with solid performances by defensive tackles Allen Bailey, Rakeem Nunez-Roches and new addition Bennie Logan, who was playing in his first game with Kansas City.
"Bennie Logan played well - I thought the front did well overall," Reid said. "Bennie just hadn't played and I was going to get him in there and get him some work. (Bailey) is a force in the run and the pass game and (Nunez-Roches) keeps playing well, which is a plus."
Logan recorded two tackles in his Chiefs debut, while Nunez-Roches notched a tackle and a passed defensed. Bailey, who injured his shoulder last October and missed the remainder of the season, sacked Bengals quarterback Andy Dalton for a loss of 13 yards in the first quarter.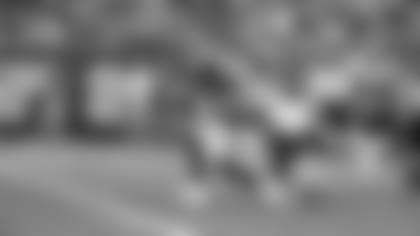 Reid was also impressed with how the linebackers performed throughout the game.
"I thought that the linebackers, both Dee (Ford) and Justin (Houston), were squeezing everything inside and allowing the inside backers to make plays," Reid said. "I thought they were flying around and did a nice job out there."
Rookie linebacker Ukeme Eligwe, Kansas City's fifth-round pick out of Georgia Southern, registered four tackles (1.0 solo), a sack and two tackles-for-loss in the contest.
The secondary was effective as well, yielding just 185 yards through the air while breaking up three passes. Defensive back Eric Murray put an exclamation point on a strong night by picking off Bengals quarterback A.J. McCarron in the third quarter.
Reid mentioned cornerback Phillip Gaines, in particular, as a player he thought made progress on Saturday. Gaines, who dislocated a finger in the preseason opener, recorded four tackles (3.0 solo) in 26 snaps against Cincinnati.
"It was great to get (Phillip) Gaines back in there and get him a lot of playing time," Reid said. "He got a lot of work in against good players and I think that will just add to his confidence down the road here. He came out feeling pretty good and he kept on battling which was beautiful to watch."
From the line to the secondary, it was a strong night for the defense as a whole.
Kansas City has trotted out one of the best defenses in the league over the past two seasons, allowing the fewest points in the NFL since Week 5 of the 2015 campaign. In that 24-game span, the Chiefs are holding opponents to 16.9 points per game and have allowed 30-plus points just once.
A stout defense generally translates to wins, as the Chiefs are 20-4 in that span, and Saturday's game was no different.
The Kansas City defense will be back at it on Aug. 25 as the Chiefs travel to Seattle to take on the Seahawks. The game will be nationally televised on CBS.