Chiefs Pro Bowl LB Derrick Johnson turned 31-years old on Nov. 22 and two days later he took the field at Arrowhead Stadium and recorded a team-high 10 tackles (nine solo), including one for loss against the San Diego Chargers.
Entering Week 13 against the Broncos, Johnson has 957-career tackles to rank third in club history, trailing DE Art Still (992) and LB Gary Spani (999) for the franchise record for most career tackles. DJ is just the fourth player in team history to accumulate 900 or more tackles in their career.
DJ has three-career INT returns for TDs, tying for the fifth-most in team history. He needs one more to tie S Lloyd Burruss (4) for fourth. Johnson also has 19-career forced fumbles, the fourth-highest total in team history, needing 10 more to pass LB Tamba Hali (28) and tie DE Neil Smith (29) for second.
CHIEFS RECORD BOOK - MOST TACKLES, CAREER
1.    999    Gary Spani    1978-86
2.    992    Art Still    1978-87
3.    957    Derrick Johnson    2005-13
4.    927    Deron Cherry    1981-91
5.    883    Donnie Edwards    1996-01, '07-08
CHIEFS RECORD BOOK - MOST INT RETURN TDs, CAREER
1.    6    Bobby Bell    1963-74
2.    5    Emmitt Thomas    1966-78
        Jim Kearney    1967-75
4.    4    Lloyd Burruss    1981-91
5.    3    Derrick Johnson    2005-13
        Seven others tied
CHIEFS RECORD BOOK - MOST OPPONENTS FUMBLES FORCED, CAREER
1.    45    Derrick Thomas    1989-99
2.    29    Neil Smith    1988-96
3.    28    Tamba Hali    2006-13
4.    19    Derrick Johnson    2005-13
5.    13    Kevin Ross    1984-93, '97
        Jared Allen    2004-07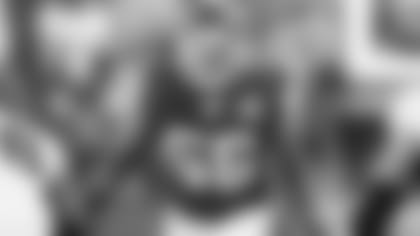 This Sunday, DJ will face another AFC West division rival, the Denver Broncos.
In 17-career games against Denver, Johnson's totaled 78 tackles, 10 assists, 1.5 sacks, 4 INTs, 2 TDs, 3 forced fumbles, one fumble recovery and 12 passes defensed.
When DJ takes the field in front of the Arrowhead Stadium crowd, he wants all the fans to know how much influence they can have against the opposition.
"They help us a lot," Johnson said. "The crowd is our 12th man. It's an opportunity for the (opposing) offense to be flustered, not get their checks and help to make some things not to go perfect on the offensive side of the ball. The crowd helps us out on defense and we get after the quarterback pretty good here at home and we're looking forward to being in that situation."
The two-time Pro Bowler, Johnson is quick to admit that his career has been a result of God-given talent and discipline.
"You have to take care of your body," DJ said. "I don't feel like I'm 31, but at the same time, this league has taught me to take care of your body and take care of you; that's rest, eating right, massages, chiropractor, any little thing that's on you, you're getting it worked out and doing all the little things. There are a bunch of little things that you do to keep your body healthy; that's the key to longevity in the NFL. If you can do that consistently, you'll be playing in the NFL for a little while."
Chiefs fans are thankful that Johnson is so motivated and disciplined, allowing him to entertain them for 2013 and beyond.