Just two days ago, linebacker Derrick Johnson was at his locker for his weekly media availability.
There, he was asked about the upcoming Raiders game and what it meant for him in the course of his 12-year career.
Johnson, the franchise's career tackle leader, had seen 166 games before Thursday night, but when asked, he confirmed that of them all, this would be the biggest.
And that may be the most heartbreaking part of what happened.
Late in the second quarter of Thursday night's game, Johnson suffered a ruptured left Achilles tendon and needed to be helped off the field by the Chiefs training staff.
Johnson sat on the team bench for approximately five minutes before being taken to the locker room.
It was a shock to the Chiefs, and the momentum shift in the game was palpable.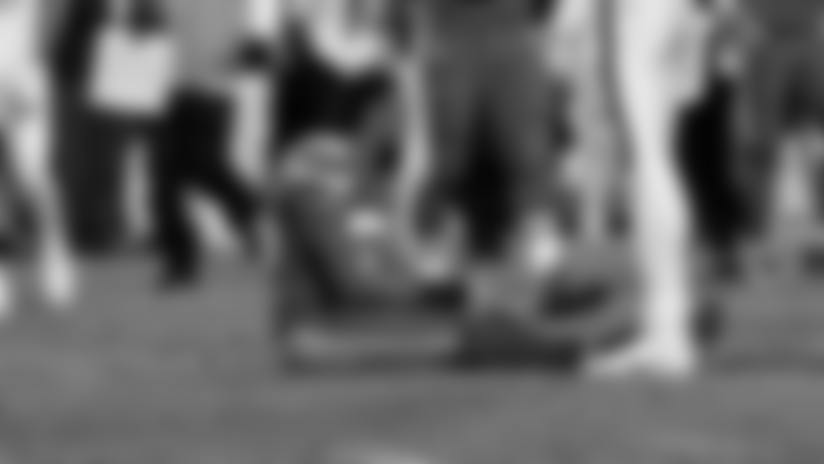 "I felt a little bit of a letdown when it happened," head coach Andy Reid said.  
Derek Carr and the Raiders closed the half with a 14-play touchdown drive, and a deflated Chiefs team went to the locker room up 21-10.
"That was on their long drive there," Reid said. "Then, Justin [Houston] and EB (Eric Berry) kind of got everybody going and reeled everybody in, I think, and went with it.
"The thing that they're saying is that'd be the last thing that D.J. would want, really, is a letdown. He's such a big part of our team, but the guys rallied. The defense played phenomenal football that second half there."
The Chiefs defense held a potent Raiders offense to just three points in the second half, and the Chiefs won, 21-13.
Johnson's ruptured Achilles is the second he's suffered in the past three seasons. Back in Week 1 of 2014, Johnson ruptured his right Achilles tendon; on Thursday, it was his left.
"It hurts for sure," quarterback Alex Smith said. "I think just even watching it for me. He is a guy that I respect so much and then just to see it. The look on his face and just the way it happened. It looked like it was serious. So bummed. … I do not think there is a guy in that locker room that doesn't look up to DJ. In the middle of a big game like that, especially for our defense, hats off to them for responding. I think a lot of times that something like that can really hurt you big time. Our guys didn't miss a beat, basically pitched a shutout in the second half."
As they've done in the cases of Jamaal Charles, Eric Berry and Justin Houston, the next man stepped up.
"That's the game of football," Houston said. "Next man up. That's what happened with me. They played the first eight games this season without me and they did a great job. So it's next man up. I'm going to pray for him and hope he stays strong. I know he'll stay strong but the next man needs to be prepared."
There are number of young players who could do that for the Chiefs, such as second-year LB D.J. Alexander. Reid also did not rule out the return of Josh Mauga or Justin March, who are both currently on injured reserve.
Right now, the concern of the team seems to be for Johnson's well being, while also not losing sight of what is still at stake.
"We'll be all right," Reid added. "We're not going to have another D.J., but we'll be all right. Nobody is going to hang their head. The next guy is going to step in – whoever they are. We'll do good, and we'll roll."
Regardless of not being able to play the rest of the season, Johnson will still be very much a part of the equation of this team.
He is a leader on this Chiefs defense, one that will now be playing for him.