"Rehab has been amazing," March explained. "It's been about eight months recovering and a big shout out to Aaron (Borgmann) in the training room for helping me get through everything. He saw the big picture when I didn't see it eight months ago and I'm just ready to go. "It's all been going well and my time's right here and I'm excited."
Throughout the 2015 season, March watched along as a Chiefs fan and frequently took to social media to comment on the play of veteran leader Derrick Johnson, who he affectionately referred to as "Uncle DJ."
Upon returning for offseason workouts, Johnson shared some thoughts about what kind of promise he sees in his young protégé.
"Justin is an up-and-coming young linebacker that's motivated to get the job done," Johnson said. "He's one of those guys who keeps me on my toes like, 'I'm watching you.'
"He's a guy that asks questions all the time, wants to know things. He's hungry. With his skill set, [while] he's not the prototype weight and size, he's a guy that really flies around the field and makes plays, and I can't wait to see his development throughout this career."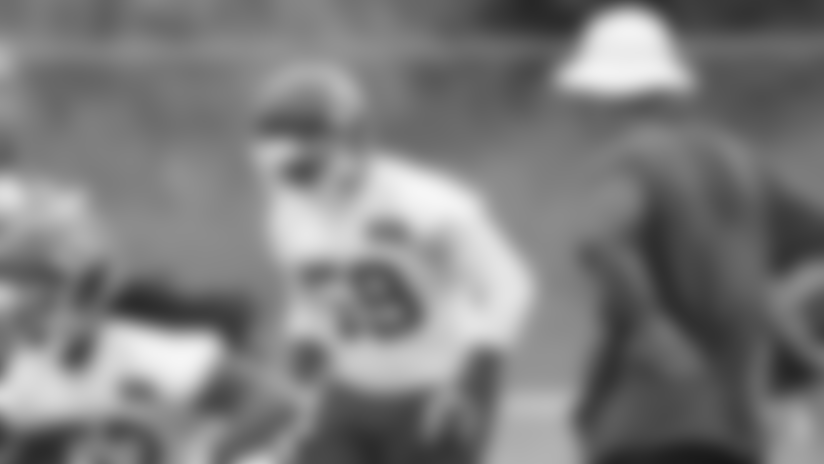 Johnson, just as he helped March at the linebacker position last training camp, also assisted March off the field mentally when he suffered his serious injury. Johnson suffered a ruptured Achilles during Week 1 of the 2014 season and had to miss the season in its entirety.
"I told him it's no rush, and you have to take care of your body because when training camp actually comes, we need you to be there," he said. "He got hurt really early, so that was actually a good thing.
"It's not a good thing when you get hurt, but if you get hurt, it's better to be early than later so you can be back with the guys. He's back with no limitations, and he's looking good."
The Chiefs are constantly looking to improve their depth, and the former Akron team captain could potentially provide that if he can stay healthy heading into the 2016 regular season.