He sat in front of his locker, soft-spoken and humble, yet it was pretty apparent he was happy, and for all intents and purposes, he had every reason to be.
It was the kind of day Kansas City Chiefs third-year outside linebacker Dee Ford has been waiting for. Ford finished Sunday's 30-14 win over the Indianapolis Colts with 3.5 sacks—the most he's had in a single game and an output that actually doubled his season total, which not only gives him seven on the year and set a new personal best, but also puts him in the top five of the league right now. 
"Days like this don't just come out of nowhere," Ford said after the game. "You have to be prepared."
Ford has spent the past three years answering questions about what it's like to learn from the likes of veterans Tamba Hali and Justin Houston—two of the best outside linebackers in the game. They have been trying to help bring Ford along by passing their knowledge to the young and talented playmaker.
All that work and maturation may have led Ford to turning a corner here in his third season.
"It's not an easy deal to humble yourself and listen to guys who have done it at a higher level than you, but that's what I've done and I will still continue to do," he added.
It was just a matter of it needing to all come together for Ford, and Sunday was another positive step in that direction.
"People have to understand, you have to do this more than once," Ford said of his big day. "[Hali and Houston] have done it for six, seven, eight—Tamba's done it for more than 10 years."
The fact that Ford had a career day and spent most of his time talking about humbling himself and that it's not about one good game, but about stringing good games together, means he's turned a corner.
It would have been very easy to understand why Ford would have stood tall with his chest out talking up his speed rush, his counter moves and all the things that made him the defensive star on Sunday, but that's not what happened.
He spoke about a process—a consistent course of action to achieve sustained success.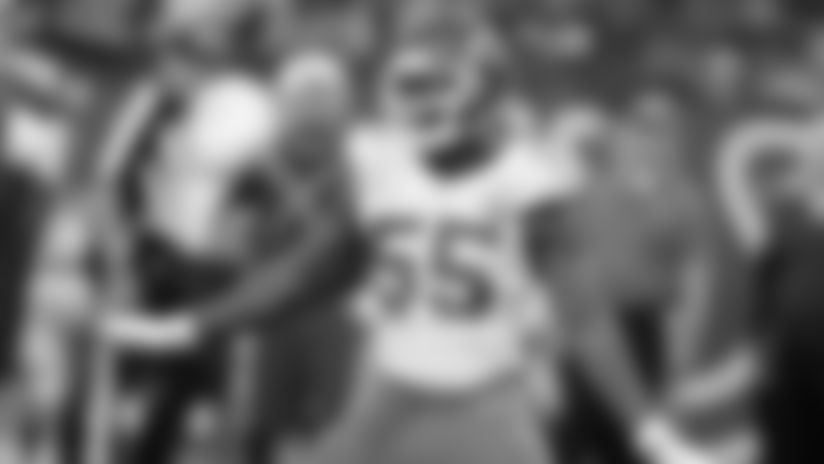 Coming into Sunday's game, the Chiefs knew that Colts quarterback Andrew Luck, who had attempted the second-most passes in the NFL but had also been sacked more than any other quarterback in the league, would give them opportunities to get pressure.
"He's going to hold the ball, so you have to keep rushing him," Ford said of Luck. "I mean, that's with any quarterback, but he's not like a Drew Brees that gets it out real quick—he's a great quarterback that likes to make plays down the field, so it was imperative that we kept rushing."
That's exactly what Ford and company did, finishing with six total sacks on the day, almost doubling their season total of eight coming into the game.
Even on some of the plays that Ford didn't necessarily get a sack, he was affecting the quarterback—getting him off his spot and making him uncomfortable.
"He's got that motor that don't stop," veteran safety Ron Parker explained of Ford. "He just keeps getting after it and it paid off for us today. He had some big sacks for us and I'm happy for him. He does a great job getting after the quarterback and putting the pressure on them."
It was the third straight week the Chiefs defense had played one of the NFL's most potent offenses.
The Colts came into Sunday's game averaging 28 points per game, which ranked fourth in the league, and they managed just 14 against this Chiefs defense on Sunday—their lowest output of the season.
"I thought (defensive coordinator) Bob [Sutton] had a real nice game plan," Chiefs coach Andy Reid said after the game. "I thought the guys executed and kept pressure on [Luck]—he's playing out of his mind right now and to be able to hold him to what we did today—I mean, I'm not sure anybody has done that this year.
"I just thought everybody played their hearts out."
Luck was held to 19 of 35 for 210 yards with two touchdowns and an interception, which was just his fifth of the season.
"They've got some injuries, so they're not fully loaded out there," Reid explained of the Colts. "But they do have [Luck] and some pretty good receivers, so I was proud of our defense and the way they handled themselves.
"It was a big challenge just like the last couple of weeks have been, but I was proud of the way they went about their business."
Two weeks ago, the Chiefs faced the NFL's No. 8-ranked offense in the Oakland Raiders, who average 26.4 points per game and the Chiefs held them to just 10 points. Last week against the New Orleans Saints, who rank third in the NFL in averaging 29.3 points per game, the Chiefs defense held them to just 21 points.
On Sunday, the defense held one of the NFL's top offenses to just 277 total yards and 14 points.
"The coaches just let us loose today," veteran linebacker Tamba Hali explained. "That gave us a chance to show what we could do—particularly Dee Ford."
Over the course of the season, the Chiefs defense has allowed a total of just 47 points in the second half of their seven games, which averages out to less than a touchdown in the final 30 minutes of each.
When it gets to crunch time, the Chiefs defense stands up and stands tall, and despite the biggest game of his career to date and team's third straight win, Ford isn't satisfied with one good individual performance.
"My body of work is still small," Ford explained. "I've got a long ways to go, but we understand that when this team clicks on all cylinders, we're hard to stop."