10 years ago, Cairo Santos had never kicked a football in his life.
He was a 15-year-old foreign exchange student living with a host family in Florida. He didn't speak much English and didn't know anything about American football coming from Sao Paulo, Brazil.
Fast forward almost a decade and things are a little different for him now.
He's not only learned about American football, but he's also thriving at it.
As a rookie last season, Santos broke Pro Football Hall of Famer Jan Stenerud's record for points in a season by a rookie kicker for the Kansas City Chiefs, a mark which stood for more than 40 years.
One person Santos credits for his development over the past two years is special teams coach Dave Toub.
"He's one of those guys in that he's never going to let me get too happy with myself but never too low either," Santos said of Toub. "When I've gone through struggles, he's done everything to help me out, to always look toward the next kick.
"When I went through some successes last year and now I'm feeling good, he always reminded me it's all about the next kick. I love that about him."
Santos had plenty to feel good about after his performance last week against the Cincinnati Bengals, when he finished a perfect 7 for 7 on field goal attempts, setting another franchise record and also tying for second-most in a single game in NFL history.
Santos is 10 for 11 on the year with his only miss coming in Week 1 against the Houston Texans.
"I felt out of rhythm," he explained of that 51-yard attempt. "I felt like I just kind of ran on the field too late and didn't set up quite the way that I wanted. So we worked on that, we worked on just being even more ready for that moment and now we actually saw that happen a few times (against the Bengals).
"We had a couple late field goal calls and we were ready to go."
Another area of Santos' game that has improved in the past year is on his kickoffs.
As a rookie, Santos had just 32.5 percent of his kicks result in touchbacks—something he wanted to improve heading into his second year.
"That's one thing that I talked to coach Reid and coach Toub about right after the season was over," he said. "That's an area that I needed to improve and that would come with me gaining weight, adding muscle to my lower body and just being more conditioned.
"Last year I did come off of a long senior year in college and going through the combine and all of that process, it burned me out. A couple games last year I felt burnt out. I didn't have much juice in my legs."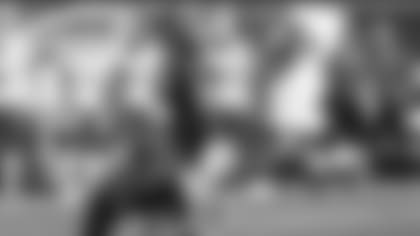 After a strong offseason program, Santos has come back even stronger.
Through the first four games of this season, Santos has had 68.2 percent of his kicks result in touchbacks, more than doubling the percentage from his rookie season.
Whether he's setting franchise records or simply achieving personal goals, Santos knows he's still not that far removed from the teenager who knew nothing about this sport he now calls his profession.
"Sometimes I catch myself just smiling and being so happy," Santos explained, "but then I'm always looking for another challenge. I'm always that guy that wants to get to another level and take my game to another level.
"When I was in high school, it was getting a scholarship in Division I. When I got there, it was being the best kicker I could be for my team. Then I realized, 'Maybe I can do this for a career.' So I tried to get into the NFL Scouting Combine, now here I am."
But don't expect Santos to be satisfied with just being here.
"I never want to think that I'm good enough and I don't need to keep getting better," he explained. "Coach Toub is always going to remind me that there's always something to improve on.
"It's great to work with someone like that."