The Kansas City Chiefs gave fans a laundry list of things to talk about, heading into Labor Day weekend. Among the most-popular topics to discuss include Thursday night's 30-8 victory over the Green Bay Packers and the fact that we're now just nine days away from kicking off the NFL regular season with a road test against the Jacksonville Jaguars on Sept. 8. Chiefs head coach Andy Reid was asked after the game about Jacksonville, but preferred to talk about his team's win, first.
"I'm going to enjoy this one with the guys," coach Reid said. "There are some kids here who had an opportunity to play some extended time that hadn't played much before. I thought for the most part, they did a pretty good job."
Before moving on, the coaches will look back on Thursday's game, which saw the Kansas City defense limit Green Bay to just 218 yards of total offense. In the four quarters of play, the Chiefs held the Packers to just 61 rushing yards, marking the lowest rushing total allowed during the 2013 preseason.
"The effort was great," Chiefs rookie LB Mike Catapano said. "We really committed to stopping the run and we knew that as soon as we did that, we were going to have some opportunities to rush the QB and show what we can do against the pass."
Despite being an exhibition game, Catapano believes the victory holds strong value.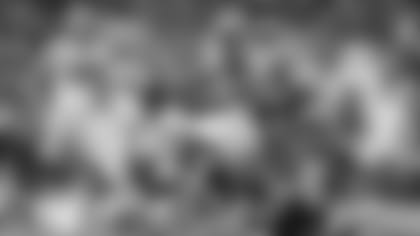 "A win is a win," Catapano said. "It's great to have that momentum and great to have a winning mentality and now we're rolling into the regular season with a couple wins under our belts and feeling good about things, knowing that we can compete and do well in these situations. It's a great feeling and we're going to keep it rolling."
Among the notable defensive stats from Thursday, the Chiefs allowed a few Green Bay third-down conversions (2-of-15 for 13.3%), though they would've preferred to pitch a shutout, as well as four forced fumbles and one INT, thanks to Chiefs LB Frank Zombo, a former member of the Green Bay Packers.
"Any time you have a play like that is obviously an awesome thing," Zombo said. "Especially against a team that you played for for three years. It was special for me."
Also special was the Chiefs offense, led by rookie QB Tyler Bray's three TD strikes. Bray described the team's win in three words.
"It was amazing," Bray said. "Just to go out there and have great success, except for the one pick I threw, we played great."
That's what makes this team special; despite the success, the players didn't forget about ways they can improve, including Chiefs WR Junior Hemingway, who led the team with seven catches for 80 yards and one TD.
"There were some things I could have done better," Hemingway said. "You have to go out there and make the best of what you get. I've been playing football for a long time; I just wanted to get out there and go after it."
Fellow Chiefs WR Frankie Hammond Jr. contributed in the receiving game (nine-yard TD reception) and on special teams, six returns for 103 yards (17.2 avg).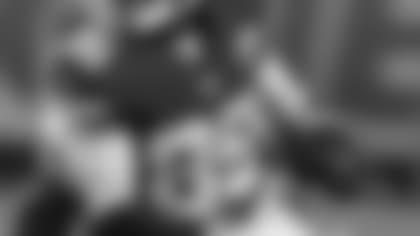 "I was just trying to get them (punt returns) and get north," Hammond said. "All props go to the other ten guys that were giving me room to read the blocks and get up field and make plays."
As for the play of Tyler Bray, Hammond offered a quick evaluation.
"He was on the money," Hammond said. "He was locked in and kept us together."
The Chiefs strong play on offense, defense and special teams gave  Andy Reid and general manager John Dorsey a good problem to have.
"I saw some good things of people I'm looking at," coach Reid said.
"Unfortunately, they were all making good plays. I guess it's fortunate in that you're going to end up with good players. There are some guys that are right in a tight competition."
Regardless of who does or does not make the Chiefs final 53-man roster, the four quarters of effort Thursday night proved itself with a 22-point win, giving everyone on the team, from coaches to all 75 players, as well as the fans, something to smile about, heading into the 2013 regular season.