During the NFL season, Tuesdays typically guarantee two things, the league-mandated players' day off and continued water cooler conversations, stemming from Sunday's games.
The 'did-you-see-that' discussions help pass the time until Wednesday, when the topic of conversation changes to the upcoming opponent.
Today is no different as the Chiefs players enjoy their day off, following Sunday's Week 8 win against the Cleveland Browns, which included performances that still may have fans talking.
Of those performances, Chiefs WR Dexter McCluster has to be considered in the discussions, following his seven receptions for 67 yards, including a 28-yard touchdown in Sunday's win. The touchdown was his fourth-career receiving score and his fifth-career offensive touchdown. He also owns two punt return touchdowns for seven-career TDs.
McCluster spoke about the timing of his TD catch against Cleveland.
"You're going to have ebbs and flows, but you have to worry about your play, your assignment," McCluster said. "You never know what play is going to be the play that determines it. Alex Smith, he's a great quarterback; when he sees the open guy, he's going to get it to you. It's something we work on week-in and week-out. The defense presented itself and I was able to connect with him. It's almost like they forgot about me and that was a good thing for this offense."
Smith described the 28-yard toss.
"All week, it was really designed for Dwayne (Bowe)," Smith said. "We got a good look and I think he's learned to time the football, because he was thinking the same thing I was and we were on the same page. Then, I cut it loose and I overthrew it a little bit and I thought he made a great catch, securing that ball as he went down to the end zone."
Smith spoke more to the various multi-purpose threats McCluster provides the Chiefs, including the Week 4, 89-yard punt return score against the New York Giants.
"He can do so many things," Smith said. "He grabs them well and then handles all of that stuff naturally really well. Then, combine that with coach (Andy) Reid and Doug (Pederson) and their imaginations and you get a lot of possibilities there. I think in the end, he does a great job on game day in just playing ball. He's a good football player. I'm glad we have him. He's great to have on the team."
While Dex has a wide variety of skills, including jaw-dropping, video game moves and breakaway speed, McCluster says nothing outweighs hard work.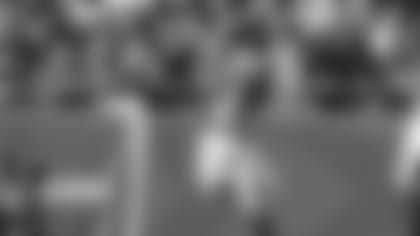 "I'm a hard-working guy," McCluster said. "I've been given the opportunity to play all over the place and it's something I've been specializing in for my whole career and things have fallen into place. No matter what, however things are going, if I'm not involved, if I am involved, I'm going to keep that mentality and keep working."
Chiefs fans can't wait to see what McCluster will do (or what hard work will lead to) during the second half of the season, which starts in Buffalo on Sunday.