Even though he's now the head coach of the Philadelphia Eagles, Doug Pederson didn't mind taking time to answer some questions about the Kansas City Chiefs.
Pederson, who spent the past three seasons as the offensive coordinator in Kansas City, was asked about the two guys who will now replace him as co-offensive coordinators in Matt Nagy and Brad Childress.
"I was excited for Matt," Pederson explained. "Obviously for Brad, too. Those guys have worked closely with Andy Reid the last few years. For Matt, I think in the growth process of his development as a coach, I think it's going to be very beneficial. Then on top with that, he's still able to work with the quarterbacks and stay involved with that room. I think it's important to keep the continuity with that position.
"Then you've got the experienced guy in Coach Childress there that can bring Matt along, and he and Coach Reid have a long track record together. So keep an eye on them, and good things will happen."
Nagy, who has been the quarterbacks coach for the Chiefs over the past three seasons, enters his seventh season as an NFL coach after starting with Reid in Philadelphia as his assistant back in 2010.
In 2015, Nagy helped Alex Smith put together the best season of his career.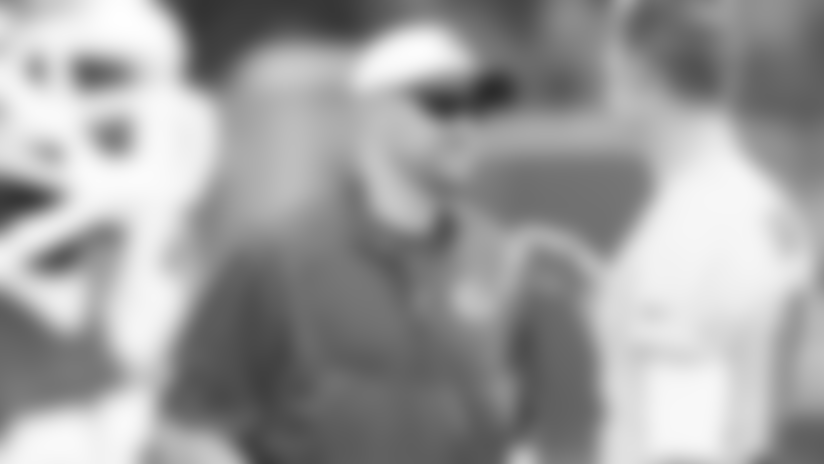 Smith had more yards passing (3,486) and yards rushing (498) in 2015 than in any other year of his career. He broke a franchise record with 312 consecutive passes without an interception, which was also the second-longest streak in NFL history (Tom Brady, 358).
Smith's success has in large part been attributed to the continuity of the offensive staff over the past three years—something he hadn't experienced before in his career. He had seven offensive coordinators and six quarterback coaches in the first eight years of his career before joining the Chiefs.
He has now thrived under the same head coach, offensive coordinator and quarterbacks coach over the past three years, but with Pederson now gone, the best thing moving forward was to try and make things as seamless as possible.
"It's great for Alex [Smith] to have the same structure," Pederson said. "You're not changing. Alex is really come off one of his better years, if not his best year. Now, just to build on that and keeping all that in house, I think is very positive for Alex and for the offensive staff."
Childress, who will enter his 18th season in the NFL in 2016, spent four years as Reid's offensive coordinator back in Philadelphia (2002-05). He has plenty of experience to bring to that position.
"We all thought alike," Pederson added. "We all had the same ideas. Matt is young, energetic, he's eager. He had great ideas. He's going to work great with Coach Reid as he and Brad put those game plans together.
"Not much is going to change and I think it's good to have both; because now you have the experienced guy with the youthful guy."