The 2013 NFL Draft Spotlight series continues, as we preview one pro prospect per day, right up until the start of the draft, April 25-27. However, none of the reports in this series are indicative of who the Kansas City Chiefs plan to draft, with any of their currently-owned eight picks.
Eddie Lacy left his mark on college football in spectacular fashion, rushing 20 times for 140 yards and one TD, during Alabama's 42-14 victory over Notre Dame, winning the BCS National Championship for the second-straight year, while earning the game's offensive MVP award.
It seemed to be only a matter of time for Lacy, who played behind teammates and current NFL running backs Mark Ingram and Trent Richardson, during his first two years on campus. However, when it came time for Lacy to shine, he made the most of it, especially in 2012.
He cracked the 100-yard rushing mark in four games last season, including back-to-back games to close out the regular season, going for 131 yards (vs Auburn) and 181 yards (at Georgia).
Lacy battled through a handful of injuries during the 2012 season and injured his hamstring shortly before the 2013 NFL Scouting Combine in Indianapolis, which also caused him to miss Alabama's Pro Day.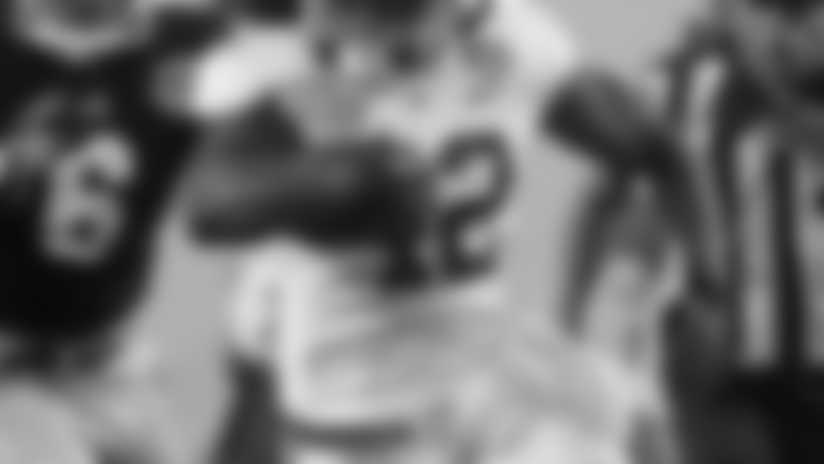 What else should you know about Eddie?
First-Team All-SEC (2012)
2012 stats – 204 carries, 1,322 yards and 17 TDs (incl. BCS title game)
Tied for fifth in Alabama history for total TDs in a regular season (16)
73 runs that resulted in a first down or TD (team-best) – 2012
Three-time BCS National Champion (2009, 2011-2012)
Alabama's offensive player of the week, six times in 2012
"A punishing downhill runner, Eddie Lacy is at his best running between the tackles. With a combination of power, vision, patience and balance, he shows the capability to grind out the tough yards and move the chains," according to Bleacher Report's Ryan Lownes.
"Lacy's ability to break and elude tackles as well as navigate traffic made him the primary ball-carrier for the Rolling Tide this season. Although not entirely ineffective as an outside runner, his bread and butter is clearly between the tackles."
"Lacy can run a little upright and needs to lose the spin move," ESPN NFL Draft analyst Mel Kiper Jr. wrote.
"But, he can make people miss and finishes with power and good leg drive. When he's consistent with pad level, he can punish on the second level."
Name:Eddie Lacy
Position: RB
Height: 5'11
Weight: 231
College: Alabama
Hometown: Geismar, LA
](http://www.kcchiefs.com/media-center/photo-gallery/A-Special-Look-at-the-Top-NFL-Draft-Prospects/ebb1532d-f4ff-4385-bbfa-f63a37434fa7 )