The 2013 NFL Draft Spotlight series continues, as we preview one pro prospect per day, right up until the start of the draft, April 25-27. However, none of the reports in this series are indicative of who the Kansas City Chiefs plan to draft, with any of their currently-owned eight picks.
Many believe there is a three-way competition for the best left tackle in this year's draft and Oklahoma Sooners OL Lane Johnson is one of them, along with Texas A&M's Luke Joeckel and Central Michigan's Eric Fisher.
Johnson's versatility cannot be overstated. The former honorable-mention all-state QB in Texas began his college career playing limited snaps as the signal-caller for Kilgore Junior College.
Leaving for Oklahoma, Johnson redshirted during his first year in 2009. The following season, he began the season at TE and switched to DE, midway through the season. However, after injuries plagued the Sooners offensive line in 2011, Johnson was sent to help fill the void. 
Despite not starting in the season-opener against Tulsa, he started the remaining 12 games of the season at right tackle.
In 2012, Johnson was moved to left tackle, replacing current Chiefs OL Donald Stephenson. Johnson started 11 of 13 games on the left side and earned an All-Big 12 second-team mention from coaches.
Combine stats: Top Performer *
40-yard dash: (4.72 sec)
225-lb Bench Press: (28 reps)
Vertical Jump: (34.0 inches)
Broad Jump: (118.0 inches) *
20-yard shuttle: (4.52 sec) *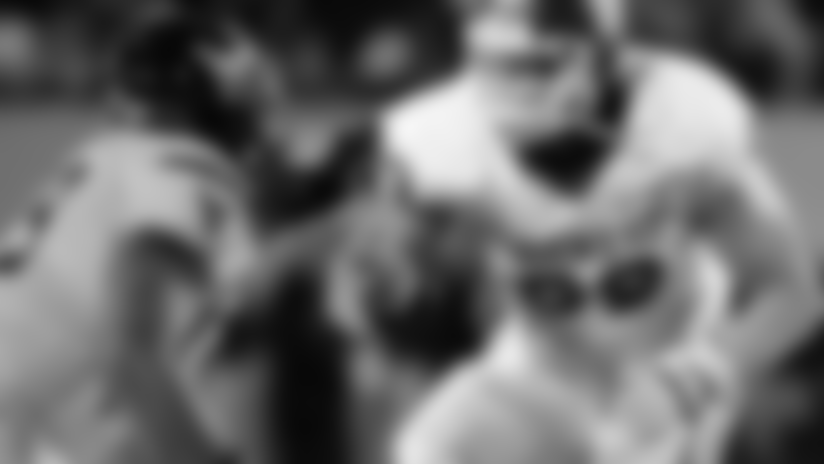 ](http://www.kcchiefs.com/media-center/photo-gallery/A-Special-Look-at-the-Top-NFL-Draft-Prospects/ebb1532d-f4ff-4385-bbfa-f63a37434fa7)
What else should you know about Lane?
Played in all 13 games with 11 starts at left tackle (2012)
All-Big 12 Second Team by coaches
Academic All-Big 12 First Team
NFL Network's draft analyst Mike Mayock told BostonGlobe.com's Greg A. Bedard that Johnson is a physically-freakish prospect.
"Runs a 4.70 40 — that's faster than Anquan Boldin did," Mayock said. "He's jumped 34 inches, that's the same as A.J. Green. He broad jumps 9-10, the same as Stevan Ridley.
So you have a 300-pounder who is putting up numbers at the combine like a skill-position player. And everybody around the league and around the country now is starting to realize, wait a minute, we have this unbelievably freakish athlete who has only played a year and a half at left tackle, and every game you put on gets a little better."
According to Cory J. Bonini of KFFL.com, Johnson:
Struggles with leverage, based on his height
Is quite inexperienced (only two years as an OT)
"Lacks raw strength and power to drive defenders"
Name: Lane Johnson
Position: OT
Height: 6'6
Weight: 303
College: Oklahoma
Hometown: Groveton, TX
](http://www.kcchiefs.com/media-center/photo-gallery/A-Special-Look-at-the-Top-NFL-Draft-Prospects/ebb1532d-f4ff-4385-bbfa-f63a37434fa7)