The 2013 NFL Draft Spotlight series continues, as we preview one pro prospect per day, right up until the start of the draft, April 25-27. However, none of the reports in this series are indicative of who the Kansas City Chiefs plan to draft, with any of their currently-owned eight picks.
Arthur Brown and his brother Bryce were top recruits coming out of Wichita East High School, Arthur as a linebacker, signing with Miami (Fla.) in 2008 and Bryce as a RB, going to Tennessee in 2009. Both eventually ended up back in Kansas to play for head coach Bill Snyder. However, it was Arthur who became the impact player for the Wildcats.
Transferring from the University of Miami, Brown redshirted his first season at KSU, before starting all 13 games as a team captain in 2011. Named the Big 12 Defensive Newcomer of the Year and first-team all-conference pick that same season, he totaled 101 tackles, 9.5 for loss for the season.
Against Baylor, Brown intercepted Heisman Trophy-winning quarterback Robert Griffin III, leading to the Wildcats game-winning FG -– it was the only second-half INT thrown by RG3 all season.
Brown's success continued in 2012, starting every game at either inside or outside linebacker, recording 100 tackles, seven for loss, including one sack. He added four pass breakups and two INTs, one of which came against West Virginia's Geno Smith, the Mountaineer's first of the season.
Brown was planning to later play in the 2013 Senior Bowl but an injury kept him off the field.
He participated minimally at the 2013 NFL Scouting Combine (broad jump of 116.0 inches) because of a shoulder injury, but excelled during his Pro Day, according to TFY Draft Insider.
"He tipped the scales at 236lbs and posted 21 reps on the bench (225-lb); a terrific number for someone who was dealing with a shoulder issue. His forty times ranged between 4.58-to-4.62. During drills, Brown was sensational, showing a quick change of direction and losing no momentum altering his angle of attack. He was fast in every direction and really solid in ball drills."
What else should you know about Arthur?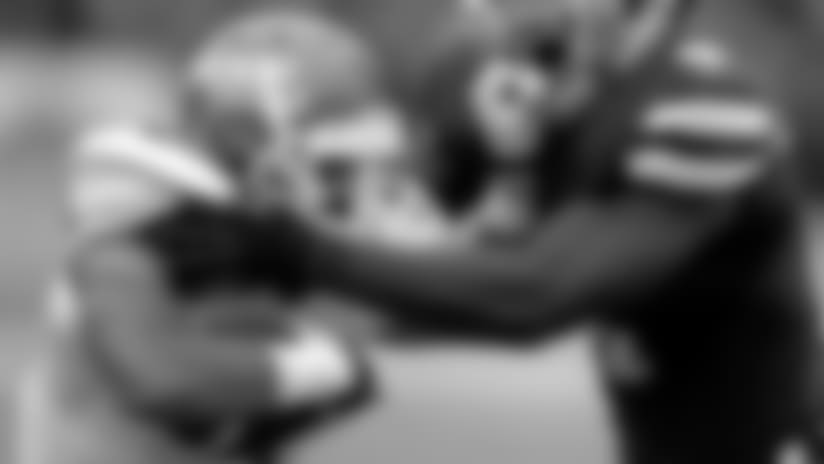 2011 First-Team All-Big 12
2011 Big 12 Defensive Newcomer of the Year
"Arthur Brown of Kansas State got little press in Manhattan and isn't yet a headliner, but he'll make like NaVorro Bowman and go from overlooked rookie to most wanted in short order," according to The Sports Xchange's Jeff Reynolds.
"Brown can play inside or outside linebacker and his experience stopping the run and in coverage showed scouts he'll play all three downs with the kind of verve coaches want from their defensive captain. This isn't a knock on Manti Te'o or Alec Ogletree as much as a nudge to the limelight for Brown."
"I'm more convinced now he'll be taken early in Round 2," ESPN NFL Draft analyst Mel Kiper Jr. said of Brown.
"He plays 100 percent all the time, and will chase down plays all over the field. He was a little light, so some teams will have him as a weakside LB, but I think he can play in the middle."
Name: Arthur Brown
Position: LB
Height: 6'0
Weight: 241
College: Kansas State
Hometown: Wichita, KS