It's not breaking news or anything, but it should make Kansas City Chiefs fans feel good knowing he's still willing to put it out there.
On Wednesday afternoon, veteran safety Eric Berry took a few minutes to speak with the media before an event he was attending at a local middle school.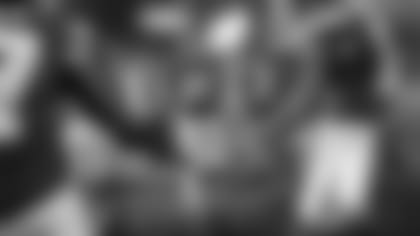 Berry, who has stayed in Kansas City to work out, spent part of Wednesday afternoon at Mission Trail Middle School in Olathe, and he was there to surprise Sophie, a seventh-grader who was this year's national Fuel Up to Play 60 "Super Kid."
While the point of this visit was to honor and surprise Sophie, Berry took some time to answer questions from a few media members who were there.
Berry was asked the question that all Chiefs fans want to know right now, "Are you going to be with the Chiefs next year?"
"I hope so," Berry stated, simply.
Berry, who was designated as the team's franchise player last year, is scheduled to become a free agent when the new league year begins on March 9.
"I think my agent had a conversation with them yesterday, or something, but it's early," he added.
Berry was named a first-team All-Pro for the second consecutive year, finishing last season with 77 tackles, nine passes defensed and four interceptions—two of which he returned for touchdowns.
Chiefs coach Andy Reid consistently said all season that Berry was the leader of the team that finished with a 12-4 record and won their first division title since 2010.
While the Chiefs' coaching staff and five of Berry's teammates (Travis Kelce, Alex Smith, Tyreek Hill, D.J. Alexander and Dustin Colquitt) are currently down in Orlando, Florida, for the Pro Bowl, Berry explained why he didn't make the trip this year despite being honored for the fifth time in his career.
"I just felt I needed time to reflect," Berry explained. "I had a chance to go and visit my aunt who is battling cancer. I just feel like there are a lot of things more important than the Pro Bowl going on right now. It really didn't have anything to do with football.
"It was more a life thing—a family thing."