The folks at ESPN utilized some advanced metrics to project how each respective offensive line unit will fare in 2022, and after dominating up front last season, it should come as no surprise that the Kansas City Chiefs checked in at No. 1.
Here's what ESPN Analytics writer Seth Walder had to say about the Chiefs' offensive line, which earned the No. 1 projected pass-block win rate and the No. 5 projected run-block win rate heading into 2022:
"It's hard to imagine an investment in the offensive line going much better than what the Chiefs did a year ago. That's most notable on the interior, where they drafted or signed the No. 1 center in pass block win rate in Humphrey and Nos. 1 and 2 guards in Thuney and Smith. They were home run moves and particularly remarkable considering Smith was a sixth-round pick."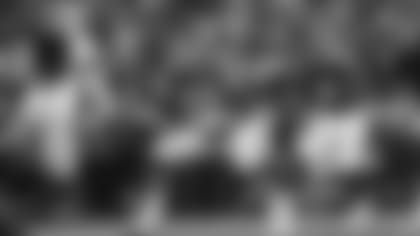 Indeed, to call the Chiefs' rebuilding efforts up front a success would be an understatement. For starters, Humphrey – who joined Kansas City as the No. 63 overall pick in the 2021 NFL Draft – earned the best overall Pro Football Focus' grade last season of any center since 2017. Thuney, meanwhile, earned the top PFF pass-blocking grade of any guard while Smith – the No. 226 overall pick last year – tallied the No. 11 overall PFF grade among all guards with 1,000+ snaps.
On the outside, Orlando Brown Jr. remains one of the top young left tackles in the game and veteran Andrew Wylie continues to prove his worth as a versatile and reliable contributor at right tackle.
It's simply a tremendous group, and a full year after deciding to completely rebuild the Chiefs' blocking unit up front, Kansas City boasts the top offensive line in the NFL entering 2022.