Fantasy Football Draft at Arrowhead Stadium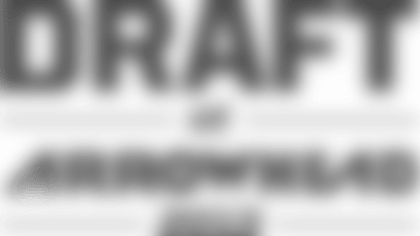 Fantasy Football. Most avid football fans are a part of a league. You anxiously await the fantasy draft all off-season. Planning the roster is in already in full effect. And if yours is anything like my league, then you know you're already trash talking and getting amped for fantasy season. It's a pretty addictive "sport."
NPR recently released a study that showed fantasy sports "is the fourth most popular sport in the United States" and "More than 30 million people play it in the United States and Canada."
Although there are different variations of the sport, football is the most popular, according to NPR.org. This year, the Chiefs are bringing you something special. We want to help you throw the best fantasy football draft party of the year.
On September 2nd, the Chiefs are offering fans the chance to host an all-inclusive Fantasy Draft Day party at Arrowhead Stadium in your own private suite overlooking the field.
The event includes an all you can eat buffet, open bar, an official NFL Fantasy Draft Kit, personalized photo of your group from the Chiefs team photographer and one game ticket to the Chiefs vs. Cleveland Browns at Arrowhead Stadium on October 27th.
To reserve your suite registration begins July 24th for Chiefs Season Ticket Holders and is open to the public on July 25th until August 20th.
There is an eight-ticket minimum per suite at $85 per ticket. To reserve a premium suite contact Jana Collins at 816-920-4993.
Get your league ready for fantasy season and pumped up for Chiefs football at Arrowhead Stadium on September 2nd.