Over the weekend, Chiefs Ambassadors and other alumni supported First Downs for Down Syndrome (FDFDS) Step Up Walk at Arrowhead Stadium. This one-mile walk around the stadium helped raise awareness and funds to support education and medical needs in Kansas City youth with Down syndrome.
FDFDS is a unique organization that strives to support the families in the Kansas City area caring for a loved one with Down syndrome. With the help of FDFDS, these families have local access to vital medical, emotional, and educational support services. 
"Kansas City has over 1,200 families caring for a loved one with Down syndrome," Amy Stoll, Executive Director of FDFDS explained. "Through Sunday's walk, we raised over $400K, with all of the money staying in Kansas City to support these families."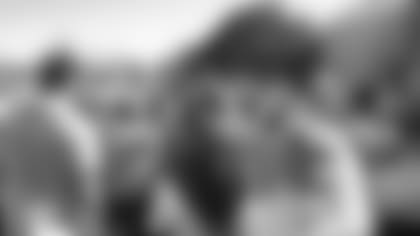 All of the money raised will support local charities, such as the Down Syndrome Guild (DSG) of Greater Kansas City. The DSG serves over 1,200 families and partners with 22 hospitals, 45 school districts and countless service providers in Kansas and Missouri.
Over 10,000 people participated in the Step Up Walk and the event featured family games, pony rides, hay rides, rock climbing walls, inflatables, photo booths, and music from Happy Face Entertainment.
"We are so grateful to have the Chiefs support our cause," Stoll said. "This has been a fulfilling partnership for 23 years and our families are so touched that the Chiefs have supported First Downs."