The National Football League announced on Tuesday that five members of the Kansas City Chiefs have been selected to participate in the 2016 NFL Pro Bowl. The below players have earned a spot on the NFL's Pro Bowl roster:
The 2016 Pro Bowl will be played on Sunday, Jan. 31, and televised live on ESPN at 6 p.m. CT from Aloha Stadium in Honolulu, Hawaii. This year's all-star game features the new format adopted in 2014. Players were selected without regard to conference in voting by fans, coaches and players. Players will be assigned to teams during the 2016 Pro Bowl Draft on Wednesday, Jan. 27 at 7 p.m. CT on ESPN2.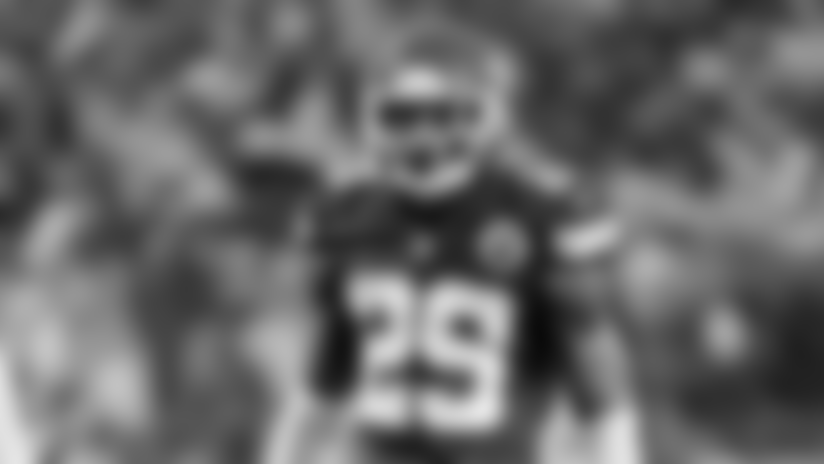 Berry has played in all 14 contests for the club in 2015, making 13 starts in his return to the field after battling Hodgkin's lymphoma in 2014. He has recorded 58 tackles (52 solo), two interceptions returned for 40 yards and eight passes defensed. In 68 career games (66 starts) he owns 381 tackles (305 solo), 5.5 sacks (-37.5 yards), 10 interceptions returned for 276 yards with three touchdown returns, 41 passes defensed, two forced fumbles, two fumble recoveries and 14 QB pressures.
This marks Berry's fourth Pro Bowl selection in six years after being recognized with the honor following the 2010, 2012 and 2013 seasons – earning the honor every year that he didn't finish the season on either injured reserve or the non-football illness list. His four Pro Bowl selections rank tied for second in team history for most appearances by a defensive back while he trails only Deron Cherry's team record of six Pro Bowls by a Chiefs safety. The Fairburn, Ga., native originally joined the Chiefs as Kansas City's first pick (fifth overall) in the 2010 NFL Draft. He is currently Kansas City's nominee for the prestigious Walter Payton NFL Man of the Year Award presented by Nationwide, given annually to recognize one NFL player for his excellence on and off the field.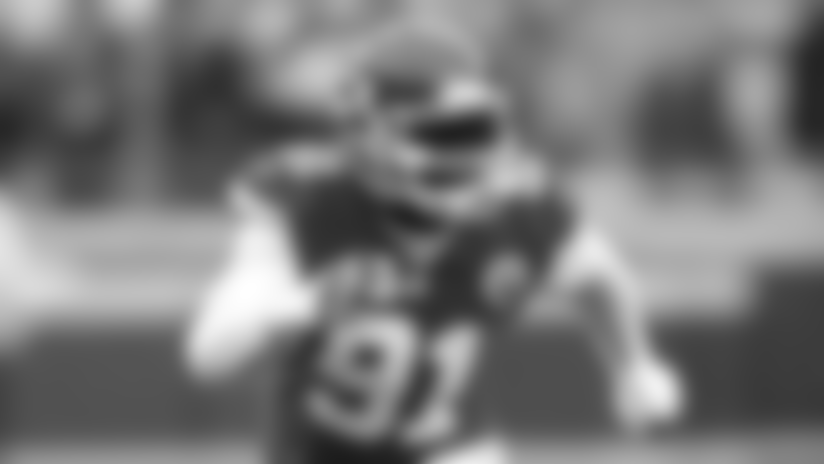 Hali has started all 14 games at linebacker in 2015, tallying 48 tackles (39 solo), including 11 for loss, 6.5 sacks (-53.0 yards), 18 quarterback pressures and two forced fumbles in his 10th season with the Chiefs. Hali has earned five consecutive Pro Bowl selections.
Hali has missed only two games since joining the club, starting 155 regular season contests (105 games at outside linebacker and 50 contests at defensive end). He's recorded 33 career forced fumbles, which ranks second in team history and has collected 86.0 sacks to rank third in team history. A native of Monrovia, Liberia, Hali was selected 20th overall in the 2006 NFL Draft by Kansas City after starring collegiately at Penn State.
JUSTIN HOUSTON (6-3, 258)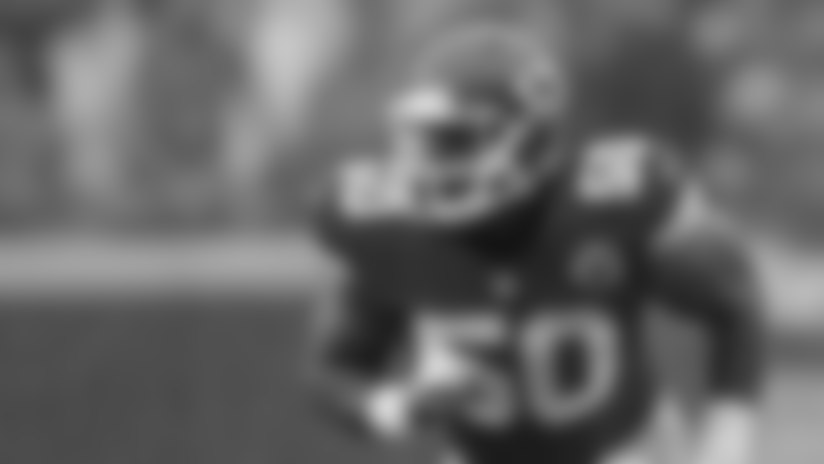 Houston has started 11 games at outside linebacker and once again leads the Chiefs in sacks, with 7.5, through Week 15. One of the premier pass rushers in the NFL, he also has two interceptions on the season, including a 17-yard INT return touchdown in Week 11 at San Diego. Houston moved up the Chiefs record books early in the season, his 56.0 sacks are the fifth-most in franchise history. Since coming into the league in 2011, Houston's 56.0 sacks rank as the third-most in the NFL during that time span. Houston has 30 tackles on the season (25 solo), nine tackles for loss, six passes defensed and is second on the team with 13 quarterback pressures. This season will be Houston's fourth earned trip to the NFL's all-star game.
A Statesboro, Ga., native, Houston has played in 70 games (64 starts) since being drafted in the third round (70th overall) of the 2011 NFL Draft by the Chiefs. He has 279 tackles (242 solo), 56.0 sacks (-324.5 yards), three interceptions for 48 yards, 25 passes defensed, four fumble recoveries, eight forced fumbles and 80 QB pressures. He played collegiately at Georgia.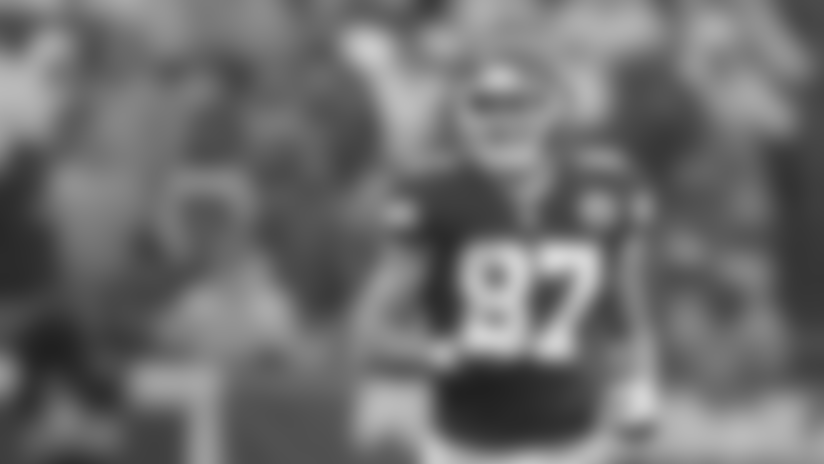 Kelce has started at tight end in all 14 games in his third NFL season with the Chiefs, posting 65 receptions for 822 yards, including four touchdowns. His 822 receiving yards (12.6 avg.) rank fifth in the NFL among tight ends in the 2015 season. From 2014-15, Kelce ranks among the top four in the NFL in yardage (1,684) and has the number one ranking in yards after catch for tight ends (1,026). This marks Kelce's first selection into the NFL's all-star game.
After spending the majority of his rookie season in 2013 on injured reserve, Kelce led the Chiefs in receptions and receiving yards in 2014 with 67 catches for 862 yards. His career numbers include 132 receptions for 1,684 yards (12.8 avg.) with nine touchdowns. A native of Cleveland Heights, Ohio, Kelce was selected by Kansas City in the third round (63rd overall) in the 2013 NFL Draft.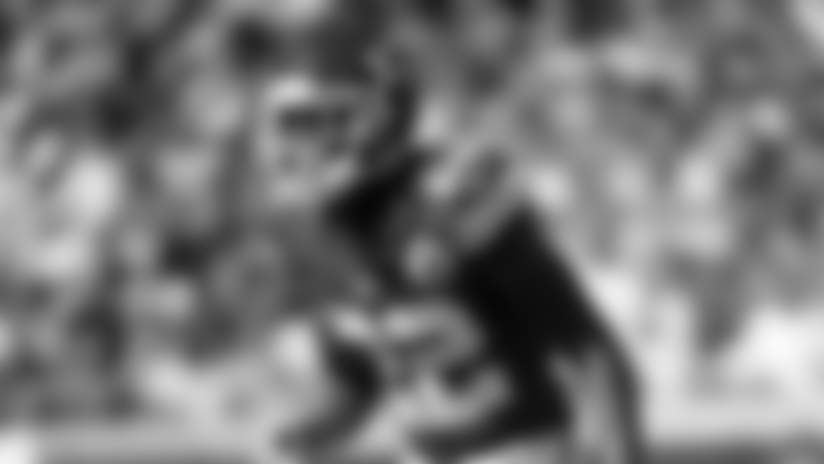 Peters has started all 14 games for the Chiefs in 2015. In his rookie campaign, Peters leads the team with seven interceptions and 234 return yards, returning two INTs for touchdowns (vs. DEN 11/17 & at BAL 12/20). He has 58 total tackles (51 solo), one tackle for loss, one forced fumble and 23 passes defensed. Peters ranks in the top-three in the NFL in three important defensive categories including interceptions (2nd), interception yards (1st) and passes defensed (2nd). Peters' 23 passes defensed is a Chiefs rookie record and his seven interceptions are tied for second all-time among Chiefs rookies. The Oakland, Calif., native played collegiately at Washington. He originally entered the NFL as a first-round draft pick (18th overall) of the Chiefs in the 2015 NFL Draft. Peters is the first rookie to earn Pro Bowl honors since safety Eric Berry did so following the 2010 season.
This article has been reproduced in a new format and may be missing content or contain faulty links. Please use the Contact Us link in our site footer to report an issue.