While most of the eyes right now are on NFL Network's "NFL Top 100" list, which is a ranking of the best players of last season as voted upon by 700 current NFL players, the folks over at Pro Football Focus have released their own top players of 2015 list.
According to their rankings, there are five Kansas City Chiefs players who were among the best players in the NFL in 2015—Justin Houston, Derrick Johnson, Eric Berry, Mitch Schwartz (Cleveland Browns) and Tamba Hali.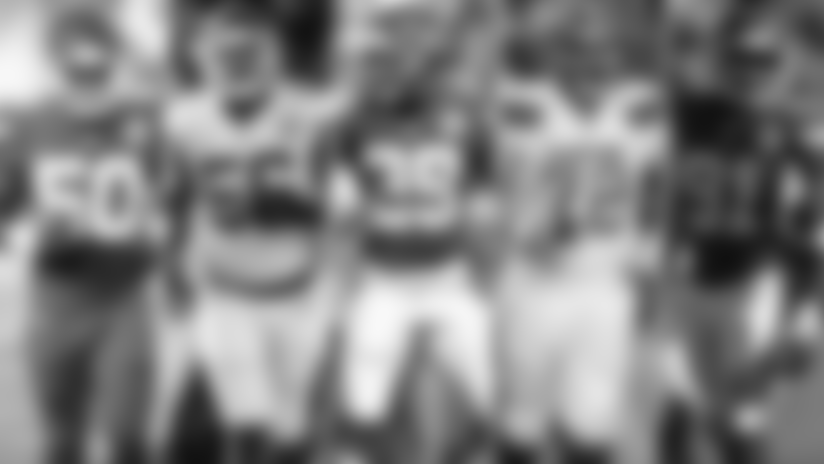 In going around the AFC West, the San Diego Chargers had just one player on the list in cornerback Jason Verrett (No. 49), while the Oakland Raiders had two players listed in linebacker Khalil Mack (No. 6) and now-retired safety Charles Woodson (No. 71).
The Broncos led with six players on the list, although two of them are no longer with the team in defensive lineman Malik Jackson (No. 75), who signed with the Jacksonville Jaguars this offseason, and offensive lineman Evan Mathis (No. 76), who signed with the Arizona Cardinals. The four remaining Broncos on the list are linebacker Von Miller (No. 7), cornerback Chris Harris (No. 36), receiver Emmanuel Sanders (No. 69) and defensive lineman Derek Wolfe (No. 90).
Therefore, the Chiefs currently have more players on PFF's Top 101 list than any other team in the division.
Here's what PFF had to say about each of the five Chiefs on their list:
No. 45 - OLB – Justin Houston
"Justin Houston is another player that saw injury bite and drag him down the rankings. When on the field, he was as good as he has ever been. In almost 400 fewer snaps than a year ago, Houston posted a cumulative grade that was not too far from his 2014 total."
No. 51 – ILB – Derrick Johnson
"A true *Comeback Player of the Year *candidate, Derrick Johnson was immediately back to his place as one of the better inside linebackers in the NFL. Johnson graded well against the run and in coverage."
"If Derrick Johnson was a legitimate *Comeback Player of the Year Candidate, the no-brainer winner was Eric Berry, who posted arguably the best season of his career just months after beating cancer, and actually gaining muscle mass while he was doing it. Berry graded well against the run and pass this season."*
No. 68 – RT – Mitch Schwartz
"Schwartz is arguably the best right tackle in football right now, and cashed in as such during free agency. The 2015 season was another step forward for a player that has been developing over his career, and was particularly impressive because of the list of pass-rushers he had to go up against. Most notably, he held Von Miller to just one pressure in Cleveland's meeting with Denver."
No. 87 – OLB – Tamba Hali
"At 32 years old, we may have seen the best of Hali, but he showed in 2015 he is still well-capable of being a force on defense and providing an able pass-rushing partner to Justin Houston on the edge. Hali posted one of the better seasons of his career, with 75 total pressures and 1 batted pass, including the playoffs."
For the full rankings at PFF, follow this link.