It felt a little different heading to practice Sunday morning.
It wasn't just because of the thousands of Kansas City Chiefs' season ticket members who showed up early to get their special pancake breakfast, which included a visit from Chiefs' Chairman and CEO Clark Hunt, team President Mark Donovan and new general manager Brett Veach, but due in large part to the guys putting the pads on for the first time this season.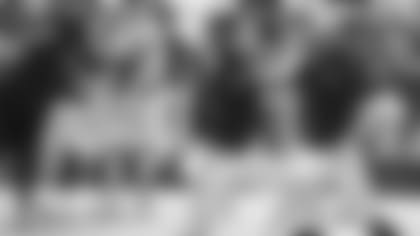 It was real football, and the crowd was into it.
Here are five observations from Sunday's practice:
The physicality was there
With the pads coming on, the physicality naturally followed.
There were multiple 1-on-1 drills throughout the day across different positional groups, and there was also a nice 9-on-7 inside run period midway through practice, and also plenty of competitive 11-on-11 periods mixed in as well.
It gave plenty of opportunities for the guys to compete.
"The first day of pads is never an easy day, but this gives them a little boost," Chiefs coach Andy Reid said after practice. "As a result, we had a good practice. Both sides challenged each other, kind of back-and-forth. We've got good players here, so as long as they continue to do that and push each other, you have a chance to get better."
"It was pretty fun," running back Spencer Ware added of the first padded practice. "A lot to work on and a lot to build on, but it was pretty fun out there."
Justin Houston was late to practice because of a random NFL drug test
Early in practice, the most obvious observation was the fact that linebacker Justin Houston wasn't on the field, nor was he in the area where injured players would train during practice.
Then, just a short while into practice, Houston came down the hill in his pads and holding his helmet.
After practice, Chiefs coach Andy Reid explained Houston's tardiness.
"The league has tests that are mandatory tests that they do your whole team, and they mix and match it," Reid explained. "It's random. So, he got a random drug test today, and there's no time on it, and he had just gone to the bathroom. So, he had to put a few liquids down to get ready to give that one. Maybe it's too much information here, but it's pretty simple.
"Sometimes that happens, and that's not the first time that's happened that way and it's probably not the last."
At least in terms of social media, there was quite the worry when Houston wasn't on the field initially, but as soon as he got out there, Houston was back to being the guy fans hoped they'd see this season.
"He's got his quickness," Reid added of what he's seen from Houston. "His weight is good; his strength is good. He cruised through the conditioning test we had. I think he's got confidence in his leg. He's in a good place. We're early here, but he's got to keep pushing on it and continue to build game endurance through these practices.
"It's great the first day, but let's keep building on it as we go."
Offensive lineman Isiah Battle was on the field, but is still dealing with a hamstring issue.
OL Parker Ehinger, DL Chris Jones, LB Tamba Hali and LB Dadi Nicolas all didn't practice once gain and remain on the PUP (Physically Unable to Perform) list.
A look at some of the reps during practice
Tyreek Hill seems to be taking his game to another level
The expectations are already high for Tyreek Hill as he enters his second NFL season, but Sunday's practice did nothing to dissuade the thousands in attendance from believing the next level for Hill is more feasible than merely hoping for it.
On multiple plays through the day, Hill made contested catches in tight space, fought off defenders for leverage, and obviously showed the world-class speed that he's motivated to improve upon thanks to some recent rankings in a video game.
"He was hungry when he first got here," cornerback Marcus Peters, who has had some battles with Hill the last two days, explained of the second-year receiver. "They think he is just fast, but he is a really technically sound receiver. He is just a little dude, but he is in a big man's body.
"He is one of the best receivers in our league right now, so you have to get work."
The All-Pro return man was electric with the ball in his hands as a rookie, and all indications through offseason workouts and the first part of camp is that he's prepared to handle an increased workload in 2017.
New Chiefs defensive lineman Bennie Logan earning respect from teammates
It hasn't taken long in pads for veteran defensive lineman Bennie Logan to earn some respect from his teammates.
After going up against him in a few 1-on-1 drills Sunday, third-year center Mitch Morse can now be considered a big believer in what Logan brings to the Chiefs' defense.
"I think he's an exceptional athlete and he knows how to compete through the whistle," Morse said of Logan. "It was unfortunate losing [Dontari] Poe last year, but we kind of bring a new thing—a new dynamic with Logan, and it's exciting. It's a new thing I haven't really worked against, and it'll be nice to get a challenge every day.
"It's a necessary evil going against [Logan]," Morse added. "We're fortunate to have him, and I think he'll be a huge asset for us this year."
One guy who knew what the Chiefs were getting in Logan was his former college teammate at LSU, running back Spencer Ware, who spoke about his recruitment of Logan this offseason.
"I played with Bennie my three seasons down at LSU," Ware explained. "We came out in the draft together. This is the place to be. I told him it reminded me of those hard days in camp and just the tenacity of this team. And Reid, how he wants that toughness to come out of people, offense and defense.
"The physicality reminded me of how our time spent at LSU was with that team we had down there."
Some other quick notes from Sunday:
At the end of practice, Chiefs' kicker Cairo Santos drilled field goals from 57, and then 60, yards away. It was impressive.
Rookie defensive lineman Tanoh Kpassagnon found himself lined up all over the defense during the day, including some work off the edge. He also had a few impressive reps during the 9-on-7, and 1-on-1 drills.
Peters picked off his first pass of training camp as he hopped underneath a pass late in practice that was intended for tight end Travis Kelce.
Kelce caught a touchdown, and then proceeded to dance for the crowd. It may have been the loudest the fans got all day. The dance involved a lot of hip action.
Alex Smith continues his impressive camp, showing some nice touch during 1-on-1 drills.
After impressing yesterday, receiver Seantavius Jones had another nice contested catch during the early part of practice on a long pass from Smith.
While Ramik Wilson and Derrick Johnson have been getting the majority of reps with the first-team defense at inside linebacker, there were different defensive packages and reps that had veteran Josh Mauga and Kevin Pierre-Louis mixing in as well.
It was the first practice for Pierre-Louis in a Chiefs' jersey since coming over from the Seattle Seahawks via trade earlier in the week.
And finally, the natural throwing ability and arm talent everyone has always raved about for rookie quarterback Patrick Mahomes leading up to camp was on display once again Sunday. During 1-on-1 drills, Mahomes was hitting guys at every level of the field. While there seems to be some learning moments taking place during team reps for the young signal-caller, the natural ability is easy to see.