The Kansas City Chiefs wrapped up the 2018 NFL Draft on Saturday with the selection of former Tennessee Volunteers' defensive tackle Kahlil McKenzie. The Chiefs picked McKenzie with the No. 198 overall selection after a trade with the New England Patriots.
Here are five things to know about the newest Chief.
1. McKenzie will play offensive guard in Kansas City
Though he played defensive tackle for the Volunteers, McKenzie will make the transition to offensive guard as he starts his professional career in Kansas City.
Chiefs' area scout Pat Sperduto explained the team's reasoning following the selection.
"All the traits that you look at with him, you can see that this kid has a shot to be a really good offensive guard," Sperduto said. "If you look in the past, there have been guys that have (made the transition)…he has a massive lower body and he plays with such strong base, he might be a pretty good one."
Sperduto floated the idea to McKenzie prior to the draft.
"The first thing I brought up was, 'What if we drafted you as an offensive guard?" Sperduto said. "He said, 'I'd be willing to do anything, I just want to play football.'"
2. His father, Reggie, is the General Manager of the Oakland Raiders
Family dinners may be a little awkward in the McKenzie household moving forward, as Kahlil's father, Reggie, runs the football department for the rival Oakland Raiders.
Kahlil tweeted about the newfound elephant in the room soon after he received the news.
Prior to taking over the Raiders, the elder McKenzie worked in the Green Bay Packers' front office for nearly two decades. In fact, McKenzie worked alongside Chiefs' Head Coach Andy Reid in Green Bay for five years before Reid left the Packers for the Philadelphia Eagles in 1999.
3. McKenzie was one of the top recruits in the nation a few years ago
At 6-foot-4 and 340 pounds, McKenzie was ranked as the sixth-best player and the top defensive tackle in the 2015 recruiting class according to Rivals. He fielded offers from a swath of programs before settling on Tennessee, his father's alma mater.
4. He was a three-year starter at Tennessee
McKenzie stepped into the Volunteers' defensive rotation right away, tallying 24 tackles (12 solo), a sack and a forced fumble during his freshman campaign. He missed time due to an injury as a sophomore before posting a solid junior season with 36 tackles (17 solo), four tackles-for-loss, two sacks and a pass defensed.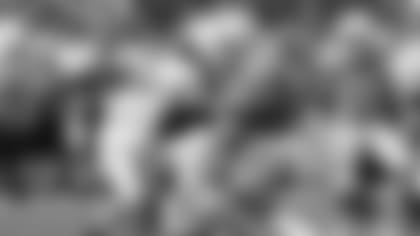 5. McKenzie's pre-draft journey was chronicled on LeBron James' "UNINTERRUPTED" platform
"UNINTERRUPTED," James' multimedia platform, featured McKenzie in its "Done Waiting" series that focuses on college players making the leap to the NFL.