1. Maclin had a breakout season in 2014
According to Pro Football Focus, out of 86 "catchable" passes for Maclin last season with the Philadelphia Eagles, he dropped just one. That gave him the lowest "drop rate" for any receiver in the NFL.
In 2014, Maclin had a career year in most receiving categories, including receptions (85), targets (143), yards (1,318), first-down receptions (56) and tied his career best with 10 touchdowns.  He finished second in the NFL with seven receptions of 50-plus yards.
He also finished No. 7 in the NFL among receivers with 522 yards after the catch in 2014.
Because of this success, Maclin was named to his first Pro Bowl last season. 2. Maclin didn't have it easy growing up
In a story that posted in the New York Times in 2007, Maclin's upbringing, which centered around a surrogate family that took Maclin in during high school, was the focus.
"They all made me who I am today," Jeremy Maclin said, adding that he loved his "bonus mom," as Cindy Parres calls herself, and his biological mother. "I'm going to take care of her."
That's something he might not have had a chance to consider if the Parreses had not taken care of him — a life-changing move that has made his smile less a front than a window.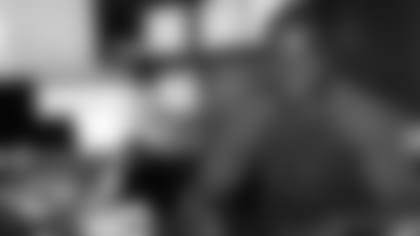 3. Home isn't too far away
For Maclin, the decision to come to Kansas City was much about comfortability.
"It just felt like home," he said in his introductory press conference. "It is home and I am excited about that."
Maclin attended Kirkwood (Mo.) High School, a suburb southwest of St. Louis where he played his high school games. The school sits just 235 miles from Arrowhead Stadium.
"(I'm) three hours from home, an hour and a half from where I went to college," he said. "It was kind of a no brainer for me."
In college, Maclin spent his time catching touchdowns at Faurot Field at Memorial Stadium in Columbia, Missouri, which sits just 120 miles due east of Arrowhead Stadium off I-70.
"He is back home where he belongs," Chiefs general manager John Dorsey said.
As the No. 3 ranked prep player in Missouri back in 2006, Maclin chose Mizzou over Ohio State, Nebraska, Oklahoma, Texas Tech, Colorado, Notre Dame, UCLA and Illinois, among others.
4. Maclin was pretty good at basketball too
Maclin averaged 13 points, five assists and four steals per game for the Kirkwood basketball team as a junior, earning honorable mention All-State honors.
Despite that success, Maclin's future was in football.
But that athletic ability undoubtedly enabled him to make plays in space on the football field, as he's one of the best receivers in the NFL at making plays once the ball is in his hands. 5. Maclin shares connection with teacher
"Alison Owens was the math teacher there when I was a sophomore," he said. "She would pick me up for school in the morning. Just seeing how much she cared for every single person in her classroom is why I don't judge anybody today—there is something special in each and every one of us. She taught me that."
Kansas City Chiefs new WR Jeremy Maclin checking out his new locker