The Kansas City Chiefs completed a major trade on Wednesday, acquiring cornerback Kendall Fuller and a draft pick from the Washington Redskins in exchange for quarterback Alex Smith.
Here are five things to know about Kansas City's new defensive back.
1. Fuller was graded as one of the best cornerbacks in the NFL last season
The 23-year-old Fuller recorded four interceptions, 10 passes defensed and a forced fumble last season – all improvements from his rookie campaign – but it was the advanced metrics that really demonstrated his effectiveness. In fact, according to the folks at Pro Football Focus, Fuller was the sixth-best cornerback in all of football least season.
Here's a look at Fuller's company on that list:
Casey Hayward (Chargers)
Tre'Davious White (Bills)
Jalen Ramsey (Jaguars)
Patrick Robinson (Eagles)
A.J. Bouye (Jaguars)
Kendall Fuller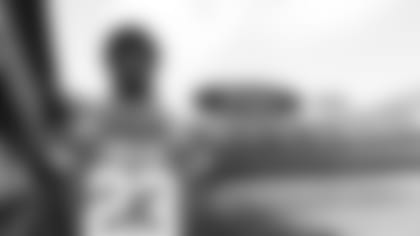 2. He was especially effective in the slot
Fuller did his best work covering the slot in 2017, where he allowed the lowest passer rating in the NFL (55.0).
Bleacher Report's NFL1000 Scouts agreed with that assessment, ranking Fuller as the top slot corner in football last season. Here's what NFL1000 Lead Scout Doug Farrar had to say about the second-year defensive back:
Perhaps the most impressive thing about Fuller's game in his second season is how many techniques he's mastered. When asked to play more aggressively, he gets his hand on the receiver to use him as a landmark and smoothly follows the receiver through the route. In zone coverage, he has the smooth backpedal and quick hip turn to stick and stay with receivers, as well as the recovery speed to race in and grab the football. He has the potential to be the best slot cornerback in the NFL, and one could argue that he was just that in 2017.
In fact, according to the folks at Pro Football Focus, Fuller was the sixth-best cornerback in all of football least season.
3. Fuller entered the league as a third-round pick in 2016
The Washington Redskins selected Fuller in the third-round (No. 84 overall) in the 2016 Draft following a strong three-year career at Virginia Tech. He was seen as a potential first-round pick by many before suffering a knee injury during his junior season.
Here's a look at what NFL.com had to say about Fuller prior to the draft:
Supremely confident and believes he should make the biggest plays on the field. Looks to feast on unsuspecting quarterbacks. Has the feet and twitch to trigger and go when he reads the quarterback's intentions. Takes a direct path to the ball. Ball hawk in the short and intermediate passing game. Logged 34 passes defensed and eight interceptions in 2013 and 2014 combined. Savvy and trusts his instincts. Good coordination from press coverage and can track releases both inside and out. Understands the body game and gets into the chest of receivers while running downfield. Willing tackler who steps downhill and doesn't miss his mark very often.
4. He put together an illustrious career at Virginia Tech
Fuller compiled a lofty list of accolades in his three years with the Hokies, including ACC Defensive Rookie of the Year honors in 2013. He was Second-Team All-American and First-Team All-ACC in 2014.
Prior to attending college, Fuller was a five-star recruit out of Our Lady of Good Counsel High School in Olney, Maryland, where he played football with Minnesota Vikings' wide receiver Stefon Diggs.
5. He comes from a football family
Fuller is the fourth member of his immediate family to suit up in the NFL, following in the footsteps of his brothers Vincent, Corey and Kyle. Vincent played wide receiver for seven seasons from 2005-11 with the Tennessee Titans and Detroit Lions, Corey played two seasons as a receiver for the Lions (2014-15) and Kyle currently plays cornerback for the Chicago Bears.