The Kansas City Chiefs made a trade on Monday afternoon, dealing safety Eric Murray to the Cleveland Browns in exchange for defensive end Emmanuel Ogbah.
Here are five things to know about the Chiefs' new edge rusher. 
1. For starters, he's excited to be here
Ogbah tweeted a couple times on Monday, once before the news broke and again after the trade had become official. It looks like he's excited to be heading to Kansas City.
New teammate Tyrann Mathieu also appears to be pumped about the deal.
2. Ogbah has spent his entire three-year career with the Browns
Cleveland drafted Ogbah with the first selection of the second round (No. 32 overall) back in 2016, thrusting the edge rusher into a starting role right away. He started all 16 of the Browns' games that year, recording 53 tackles (28 solo), 16 quarterback hits, eight tackles-for-loss and a team-leading 5.5 sacks.
He also led the Browns in pressures that year with 46.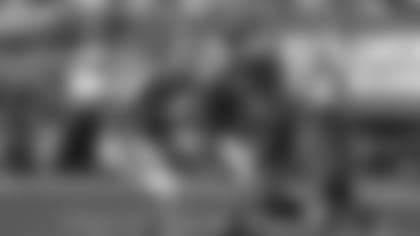 Ogbah tallied four sacks and two forced fumbles through the first 10 games of 2017, including a two-sack performance against the Detroit Lions in Week 10, before a foot injury ended his season early. The 25-year-old then started 14 games this past year, notching 40 tackles (24 solo) and 3.0 sacks.
In total, Ogbah ended his Browns' career with 122 tackles (70 solo), 98 pressures, 29 quarterback hurries, 16 tackles-for-loss and 12.5 sacks.
3. He's excelled at swatting away passes at the line of scrimmage
One unique category in which Ogbah has thrived as a professional is in batted passes at the line of scrimmage. The six-foot-four Ogbah tallied eight passes defensed last season and has knocked down 17 balls since entering the league in 2016 – the third-most in the NFL amongst defensive linemen in that span.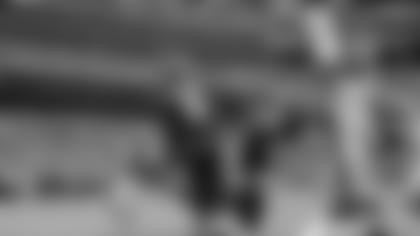 Interestingly enough, Chiefs' defensive lineman Chris Jones ranks just below Ogbah on the list with 16 passes defensed since 2016. Both players seem to have a knack for getting their hands up at the right time.
Speaking of Jones, count him amongst those that are excited to have Ogbah in town.
4. Ogbah played his college ball at Oklahoma State
Ogbah attended Oklahoma State due in part to a recommendation from former NFL offensive tackle Russell Okung, who served as a mentor of sorts to Ogbah while he was growing up. While Okung is several years older, the duo attended the same high school outside Houston and both share Nigerian roots.
It turned out to be a smart decision, as the young pass-rusher was a star during his three seasons for the Cowboys, increasing his sack total from a team-leading 4.0 as a freshman in 2013 to 11.0 the following year – earning Big 12 Defensive Lineman of the Year honors – and then a conference-leading 13.0 as a junior, winning Big 12 Defensive Player of the Year.
He tallied 34.5 tackles-for-loss over his final two years in Stillwater, garnering a reputation as one of the country's top collegiate pass-rushers.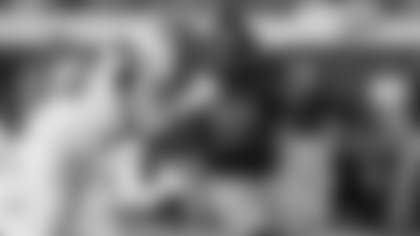 5. He's originally from Nigeria
Ogbah moved from Lagos, Nigeria to Houston, Texas at the age of nine as his family pursued a better life. Ogbah's father went back to school and worked nights to support his five kids – Emmanuel among them - eventually making the dream of a brighter future for his children a reality.
It was a sacrifice that molded Emmanuel into the person that he is today.