The Kansas City Chiefs made a splash this week, officially acquiring defensive end Frank Clark from the Seattle Seahawks on Thursday in exchange for the No. 29 selection in the upcoming NFL Draft, a swap of each team's third-round picks and a second-round pick next year.
Here are five things to know about the Chiefs' newest edge-rusher.
1. Clark has spent his entire four-year career with Seattle
The Seahawks selected Clark with the No. 63 overall pick in the 2015 Draft, making the edge-rusher Seattle's first pick in the draft that year. Clark played in 15 games as a rookie that season, recording 3.0 sacks, but it was his sophomore campaign that put the NFL on notice.
Clark tallied 10.0 sacks and 18 quarterback hits in 2016 despite starting just five games, and once given an even larger opportunity over the next two years, Clark continued to rack up the stats.
In fact, Clark's 48 quarterback hits (10th) and 22.0 sacks (9th) since 2017 both rank in the top-10 among all players in that span. The guy can get after the quarterback.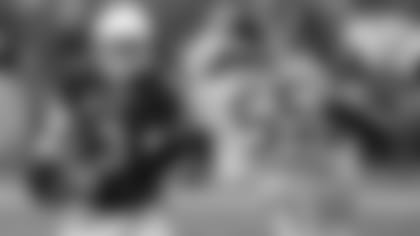 2. He's been one of the most consistent pass-rushers in the NFL
Clark is one of just seven players to record 9.0 or more sacks in each of the last three seasons, joining Mario Addison (Carolina), Geno Atkins (Cincinnati), Chandler Jones (Arizona), Ryan Kerrigan (Washington), Khalil Mack (Chicago) and Von Miller (Denver).
Additionally, Clark has ranked 22nd (2016), 24th (2017) and 10th (2018) in each of the last three seasons in pressures among edge-rushers, according to Pro Football Focus.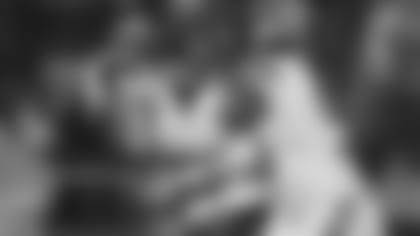 3. Clark has experience playing defensive end in a 4-3 scheme
The Chiefs will be deploying a new defensive scheme this season under Defensive Coordinator Steve Spagnuolo, shifting from the previous 3-4 base alignment to a 4-3 scheme, and while every team is different, Clark has played in a 4-3 defense his entire career.
At six-foot-three and 265 pounds, he certainly possesses the ideal size for the position.
4. The top statistical performance of his career came last season against the Raiders
Clark recorded 2.5 sacks and two forced fumbles in the Seahawks' Week 6 matchup with Oakland last season, earning NFC Defensive Player of the Week honors for his efforts.
Here's a look at one of those sacks. It's absurd.
But he can get creative, as well. Check out this video of Clark sacking Minnesota Vikings' quarterback Kirk Cousins last season.
And, lastly, here's a video of Clark fighting through a block to bring down Patriots' quarterback Tom Brady with just one hand back in 2017.
5. Ironically enough, Clark had to be talked into being a pass-rusher while in high school
As a star athlete for the Glenville High School football team in Cleveland, Clark was more interested in playing on offense or – if he had to be on defense - safety. It wasn't until his senior year that Clark finally committed to being an edge-rusher at the behest of legendary football coach Ted Ginn Sr., whose son - Ted Ginn Jr. – is a 12-year NFL veteran.
Here's a portion of the story from the folks at MLive.com.
The talent was obvious and Clark knew it. He demanded to be used all over the field -- quarterback, tight end, wide receiver, linebacker, safety, kicker.
"Frank wanted to do everything except what I wanted him to do," Ginn said.
Ginn wanted Clark to play defensive end and the two locked horns.
"So I fought with Frank from his sophomore year to his senior year," Ginn said. "In his senior year, he finally decided to listen."
It turned out to be a pretty good decision, and all these years later, Clark is headed to Kansas City.