The Kansas City Chiefs made an addition to their offensive line on Thursday by signing veteran offensive guard Kyle Long.
Here are five things to know about the newest member of the squad.
1. Long is a seven-year veteran who last played for Chicago in 2019.
The Bears drafted Long with the No. 20 overall pick in the 2013 NFL Draft and immediately plugged him in as their starting right guard to begin his rookie campaign. He went on to start 76 games for Chicago over the next seven seasons, earning Pro Bowl nods in 2013, 2014 and 2015.
Injuries forced Long to miss time in the four seasons following his Pro Bowl nomination in 2015, but he was still quite productive when on the field, earning a top-15 pass-blocking grade from the folks at Pro Football Focus in 2016 (No. 15) and 2018 (No. 10).
Long retired following the 2019 season, but after sitting out 2020, the veteran is back for the 2021 campaign.
2. A year removed from the game, Long appears ready to go.
Long recorded a weightlifting session and posted some clips of his workout earlier this month. They're impressive, to say the least.
3. He's spent most of his career at offensive guard, but he has experience at tackle, too.
Long has lined up at right guard for the majority of his career – logging 60 starts – but he played right tackle for the entire 2015 season, starting all 16 of Chicago's games at that spot and earning a trip to the Pro Bowl.
Long moved back to right guard the following season, but he's demonstrated the ability to bounce outside if needed.
4. Long comes from a football family.
Long is the son of former Raiders' great Howie Long, who was enshrined in the Pro Football Hall of Fame in 2000 after tallying 84 sacks and earning eight Pro Bowl nods at defensive end between 1981 and 1993.
His older brother, Chris, also found a great deal of success in the NFL as a defensive end. The No. 2 overall selection in the 2008 Draft, Long spent more than a decade in the league with three teams (St. Louis, New England and Philadelphia) while winning two Super Bowls (LI and LII) in addition to the Walter Payton Man of the Year Award in 2018.
Football runs deep in the Long family.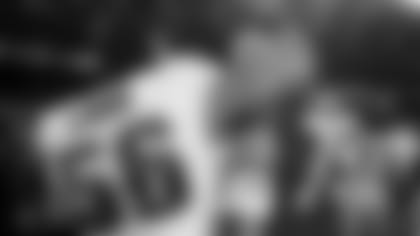 5. Long was drafted by the Chicago White Sox out of high school.
A multi-sport athlete at St. Anne's-Belfield School in Virginia, Long could have taken another path in athletics altogether when the White Sox selected him in the 23rd round of the 2008 First-Year Player Draft.
"He was a man amongst boys, throwing 95 or 96 [mph] from the left side."
Laumann went on to explain that the University of Cincinnati baseball field measured 385 feet to right field and then there was another 40 feet beyond the fence until you reached the six-story building housing the basketball arena. Long was hitting baseballs off the top of that building, some 440 feet from home plate.
"A can't-miss first-round pick for that next year," Laumann said.
Long instead turned his attention to football, however, and despite an already impressive career, he's hungry for more with the two-time defending AFC champions.