The Kansas City Chiefs made a move on Tuesday, signing quarterback Matt Moore following an injury to veteran Chad Henne.
Here are five things to know about the newest member of the Chiefs' quarterback room.
1. Moore has more than a decade of experience in the NFL
The 35-year-old Moore originally entered the NFL as an undrafted free agent back in 2007, and after a brief stint with the Dallas Cowboys during training camp, joined the Carolina Panthers ahead of the season.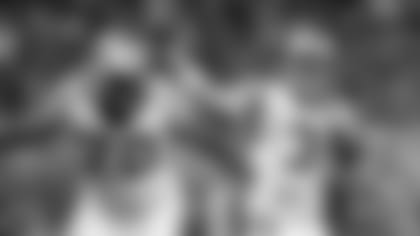 Moore went on to spend four years with Carolina – starting 13 games during his tenure – before signing with the Miami Dolphins in 2011, which became his home for the next seven seasons.
An injury to Henne - who was Miami's starter at the time - forced Moore into action early in his first season with the Dolphins, where he threw for 2,497 yards and 16 touchdowns while winning the team's MVP award following the year.
Moore has primarily served in a back-up capacity since that season, but he did have the opportunity to start in the Wild Card round of the postseason back in January of 2017 when then-starter Ryan Tannehill couldn't play due to injury. Moore completed 29-of-36 passes for 289 yards and a touchdown in the game as the Dolphins fell to Pittsburgh.
For his career, Moore has thrown for 6,938 yards and 45 touchdowns across 49 appearances (30 starts).
2. He last played in 2017 as a member of the Dolphins
Moore's most recent season as a professional was back in 2017, when he saw action in four games and started twice for Miami. The highlight of that campaign was undoubtedly a thrilling victory over the New York Jets, which Moore entered during the third quarter when starter Jay Cutler was sidelined with an injury.
Trailing by two touchdowns entering the fourth quarter, Moore led the Dolphins to 17 points over the final 15 minutes to complete the epic comeback and secure the win for Miami.
He played in three more games that season, making two starts, before sitting out last year.
3. Moore has experience working as a backup behind a young quarterback
The Chiefs have their starting quarterback in NFL MVP Patrick Mahomes, but while Moore hopefully won't see the field much during his time in Kansas City, he still fills a valuable role in the Chiefs' quarterback room as a guy who has considerable experience in this league.
For example, here's what Chiefs' Quarterbacks Coach Mike Kafka had to say during training camp about Henne and the role that he filled as Mahomes' back-up.
"Everyone [in this quarterback room] is helping each other out, everyone has a voice, and everyone has an opinion. That's great and it's what we want," Kafka said. "We kind of foster that kind of culture in that room, and Chad has jumped in and he has a ton of experiences that guys can lean on."
That responsibility will now fall on Moore, too, but this won't be his first time working alongside a young quarterback. Moore was behind Tannehill – a former first-round pick – throughout his time in Miami.
4. He played his college ball at Oregon State
Moore began his collegiate career at UCLA before transferring to Oregon State prior to his junior season. He went on to star for the Beavers in his two years with the team, passing for 5,733 yards and 29 touchdowns while leading Oregon State to victories over rival Oregon, No. 18 Cal and No. 3 USC, snapping the Trojans' 27-game winning streak over Pac-10 opponents.
He also left Oregon State with the school record for consecutive pass-attempts without an interception (182).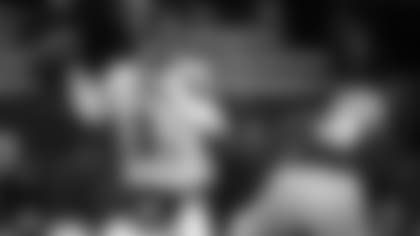 5. Before enrolling at Oregon State, Moore almost pursued a career in professional baseball
Between his stints at UCLA and Oregon State, Moore attended a junior college in California while playing recreational baseball. That drew the attention of a Los Angeles Angels' scout, who convinced the Halos to select Moore in the 22nd round of the 2004 Draft.
And with his football future up in the air, Moore seriously considered making the move across sports.
"At the time I didn't have a place to go play college football," Moore told Joe Schad of the Palm Beach Post. "I want to go play baseball. My Dad had played baseball (in the Cardinals organization). My grandfather had played baseball (in the Yankees and Cubs organizations). So, I thought about it hard. And both my parents really pushed me toward school."
Moore ultimately chose to stick with football, and now all these years later, his path has led him to Kansas City.