The Kansas City Chiefs made a high-profile addition to their already electric offense on Saturday by signing free agent tailback Le'Veon Bell.
Here are five things to know about the veteran tailback.
1. Bell is one of the most prolific running backs of the last decade.
The 28-year-old Bell has made a name for himself as one of the top stars in the game since entering the league in 2013.
In that time, despite sitting out the entire 2018 season, Bell ranks third in the NFL in rushing yards (6,199), sixth in 100-yard games (18) and 12th in rushing touchdowns (38). He's averaged 4.2 rushing yards-per-attempt during his career, earning three Pro Bowl nods (2014, '16, '17) and three All-Pro selections - including First-Team honors in 2014 and 2017.
As those accolades indicate, Bell was particularly effective from 2014-17 while with the Pittsburgh Steelers. In those four seasons, Bell led the NFL with 6,737 yards from scrimmage and found the end zone 34 times.
2. He most recently played for the New York Jets.
Bell sat out the 2018 season before signing with New York, where he went on to play in 17 games over the last two years. He tallied 1,363 yards from scrimmage during his time with the Jets, including 1,250 scrimmage yards in 2019.
The Jets released Bell earlier this week.
3. Bell is a weapon catching the ball out of the backfield, too.
The six-foot-one, 225-pound Bell has been an asset in the passing game during his career. In fact, he leads all running backs since 2013 in targets (478), receptions (381) and receiving yards (3,160) despite not playing at all in 2018.
He racked up more than 600 receiving yards in three different seasons for Pittsburgh and most recently hauled in 66 grabs for 461 yards for New York in 2019.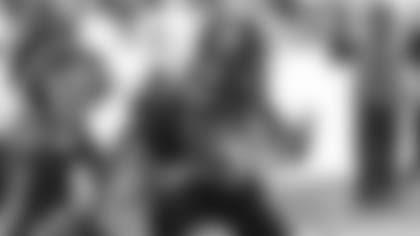 4. He's known for his unique running style.
Bell has popularized a patient approach to carrying the football that scans the line of scrimmage and waits for blocks before kicking into high gear. It's uncommon and requires a particular kind of athlete, but Bell has made it work with tremendous results.
"If [the hole is] there, he'll hit it. If not, he does an excellent job of setting the blockers up and making the defenders commit, and then finding space and going. You don't see him running into the back of his blockers and running into a pile and things like that. He makes guys commit, and then he finds space and is able to get to it. He's an excellent player."
"He has a unique style about him — that delay to get to the line of scrimmage. It's been effective for him. He's really the only one that does it, so it's unique. The obvious thing is you have to contain him and take care of your gaps, for sure."
5. Bell played his college ball at Michigan State.
Before taking his talents to the NFL, Bell was an All-American for the Spartans following his junior season in 2012. He rushed for 1,793 yards that year - which ranked fifth in the nation – and his 922 yards after contact led the FBS.
The Steelers drafted Bell with the No. 48 overall selection in 2013, and all these years later, he's found his way to Kansas City as the Chiefs look to defend their Super Bowl championship.