The Kansas City Chiefs made an addition to their backfield on Sunday, signing 24-year-old tailback Ronald Jones out of free agency.
Here are five things to know about the newest member of the offense.
1. Jones originally entered the NFL as a second-round pick.
The Tampa Bay Buccaneers selected Jones with the No. 38 overall pick in the 2018 NFL Draft, making him the fifth tailback taken that year. He went on to appear in 55 total games for the Buccaneers – including 25 starts – while racking up 2,174 rushing yards and 19 total touchdowns in that span.
His best season was in 2020, when Jones rushed for 978 yards and seven scores as Tampa Bay's primary running back. He averaged 5.1 yards-per-carry that season, which ranked sixth among all eligible running backs.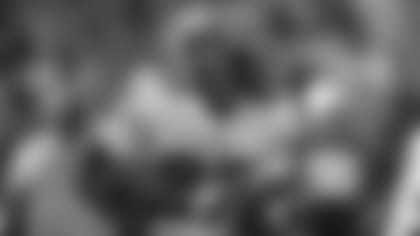 2. He put together back-to-back seasons with 1,000+ yards from scrimmage from 2019-20.
That successful campaign in 2020 was part of a strong stretch for Jones, who tallied 2,176 yards from scrimmage and 14 total touchdowns between the 2019 and 2020 seasons.
He appeared in all 16 games for Tampa Bay in 2019, including nine starts, while breaking out with 724 rushing yards and six scores. Jones added 309 yards through the air, topping the 1,000-yard mark in terms of scrimmage yards for the first time as a professional. He then followed that up with his aforementioned strong year in 2020, recording 1,143 total yards from scrimmage.
In total, Jones' 2,176 total yards from scrimmage between the 2019-20 seasons ranked 15th among all tailbacks.
3. Jones is at his best between the tackles.
The 5-foot-11, 208-pound Jones has historically been at his best up the middle. In fact, during his most productive season in 2020, Jones rushed for 712 yards on 123 attempts between the tackles while averaging 5.8 yards-per-carry.
The advanced metrics were impressed, too. Jones performed well according to numerous measures between the tackles in 2020 according to Next Gen Stats.
4. He played his college ball at USC.
Before heading to the NFL, Jones compiled three strong seasons for the Trojans as one of the top running backs in the nation. His production increased every year at USC, amassing 1,026 yards from scrimmage as a freshman, 1,158 yards as a sophomore and 1,737 during his junior (and final) year on campus. Additionally, his 19 rushing touchdowns in 2017 ranked fifth in the nation. His efforts as a junior earned a spot on multiple postseason all-star teams, including Third-Team AP All-America honors and a nod to the Pro Football Focus All-America First-Team.
Jones left USC with the fifth-most rushing yards in school history.
5. Jones is already familiar with one of his new teammates.
Jones was teammates with another new addition, wide receiver JuJu Smith-Schuster, at USC for two seasons from 2015-16. The duo was productive, too, combining for 4,583 total yards and 42 touchdowns in their two seasons together.
The last time they shared the field was during a victory over Penn State in the Rose Bowl in which both players found the end zone, and now re-united in Kansas City, they'll look to find that same success together as professionals.