The Kansas City Chiefs added to their offense with the signing of free agent tight end Ricky Seals-Jones.
Here are five things to know about the newest member of the defending world champions.
1. He played for the Cleveland Browns last season
Seals-Jones appeared in 14 games (3 starts) for Cleveland in 2019, tallying 14 catches for 229 yards and four touchdowns. His top statistical game of the season was in Cleveland's victory over the Baltimore Ravens in Week 4, where the 25-year-old Jones hauled in three catches for 82 yards and a score.
Here's a look at his top play from that game, which covered 59 yards.
Additionally, eight of Seals-Jones' 14 catches last season covered double-digit yardage. He didn't have a ton of receptions in 2019, but when he had the ball in his hands, he made the most of it.
2. Seals-Jones originally entered the league with the Arizona Cardinals
After going undrafted in 2017, Seals-Jones signed with the Cardinals and went on to appear in 10 games (1 start) while catching 12 passes for 201 yards and three touchdowns. He then earned an opportunity in 15 games (5 starts) the following season with Arizona, notching 34 grabs for 343 yards and a score.
The Cardinals elected to cut Seals-Jones prior to the 2019 campaign, which led to his one-year stint with the Browns.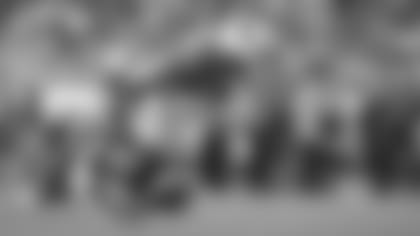 Seals-Jones checks in at six-foot-five and 243 pounds, joining fellow tight end Travis Kelce (who also stands at six-foot-five) as the second-tallest pass-catcher currently on the roster behind only wide receiver Jody Fortson (six-foot-six).
That length – not to mention some impressive athleticism- has flashed during Seals-Jones' young career, such as on this touchdown grab back in 2017.
And there's also this catch, which Seals-Jones hauled in during the preseason in 2019.
4. Seals-Jones played his college ball at Texas A&M
The second-ranked athlete prospect in the nation (and 40th overall player) according to Rivals in 2013, Seals-Jones picked the Aggies amongst his many suiters and went on to tally 123 catches for 1,442 yards and 10 touchdowns in 39 career games.
Seals-Jones was teammates with Chiefs' safety Armani Watts at Texas A&M from 2014-16.
5. He's cousins with Pro Football Hall of Famer Eric Dickerson
Seals-Jones certainly has some football royalty in his family as Dickerson, who led the NFL in rushing four times during his stellar career, is his cousin. Dickerson even attended Sealy High School 34 years before Seals-Jones starred there himself.
The Pro Football Hall of Famer has served as mentor of sorts as well, serving as one of the encouraging voices behind Seals-Jones' switch from wide receiver to tight end prior to his first season in the NFL. Seals-Jones was hesitant at first, but he eventually warmed up to the idea as Dickerson described to the folks at the Cardinals website.
"After the first day he told me, 'They can't cover me,'" Dickerson said. "I told him, 'At tight end, you're a mismatch.' I knew that was the position he would excel at. Once he embraced it, the proof was in the pudding."
Seals-Jones will now look continue his development and take the next step in his career as a member of the defending Super Bowl champions.