Altogether, the Chiefs' undrafted free agent class is balanced.
The Chiefs signed five defensive players, five offensive players, and one specialist in the class:
CHIEFS COLLEGE FREE AGENT SIGNINGS
One signing, cornerback De'Vante Bausby, is from Kansas City, Missouri.
Before playing college football at Pittsburg State in Pittsburg, Kansas, cornerback De'Vante Bausby attended Hogan Preparatory Academy in Kansas City.
As a Hogan Prep Ram, Bausby was a three-time All-State athlete, earning the honors at defensive back in 2008 and 2010 and at wide receiver in 2009 and 2010. He caught 88 career passes for 2,498 yards receiving for 15 touchdowns and on defense, made 178 tackles with 22 interceptions.
Andrew East from Vanderbilt becomes the second long snapper on the roster.
With Thomas Gafford now in Chicago, there will be a new long snapper for the Chiefs for the upcoming 2015 season.
Right now, the competition for the job is between James Winchester out of Oklahoma and the newly signed Andrew East from Vanderbilt.
Wide receiver Tello Luckett also ran track in college.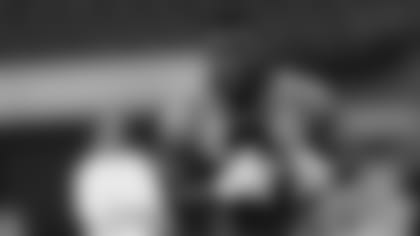 New Chiefs wide receiver Tello Luckett, who's full first name is "Donatella," ran track at Harding University while also playing football.
Luckett qualified for the NCAA II outdoor national meet and placed 13th in the 100 meters in 10.50. He also holds the second-fastest 100-meter dash time in school history (10.44).
Luckett ran an impressive 4.37 40-yard dash at his pro day and made the All-Great American Conference first team in both 2013 and 2014.
LB Sage Harold related to LB Eli Harold, who went to the San Francisco 49ers in the third round of the draft.
The Harolds came out of college at the same time—Sage, a senior out of James Madison University and Eli, a junior out of the University of Virginia.
Sage played in all 13 games in 2014, compiling a career-high 73 total tackles and 13.5 sacks.
Images of some of the Chiefs' 2015 undrafted rookie free agents.