Wilson played four seasons of college football for Georgia State in the program's inaugural four years. Georgia State began playing Division I football in 2010, the same year that now-Chiefs wide receiver Albert Wilson was a freshman at the school.
In their inaugural season, the Panthers went 6-5, and Wilson finished third on the team in yards receiving, compiling 294 on 19 receptions and two touchdowns.
Wilson served as the team's primary kick returner, averaging 28.1 yards over 22 total returns for the season.
Wilson, as a freshman, had a 97-yard kickoff return touchdown against the University of Alabama.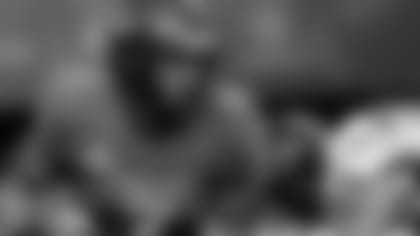 The Panthers' final game of their first season in 2010 was a matchup against Alabama.
In what would wind up being a blowout, the lone bright spot for Georgia State came with a little more than five minutes to go in the second quarter when the Panthers already trailed the Crimson Tide 42-0. 
Wilson received the kickoff and darted to the right side of the field towards the sideline. The blocks from his fellow Panthers were there and Wilson beat the last Alabama defender on the edge en route to a 97-yard kick return touchdown.
The Panthers eventually lost the game, 63-7, but from that point forward, Wilson's name was on the map.
Wilson models his style after the Ravens' Steve Smith. Wilson admitted in early January that he relates his game to Ravens wideout Steve Smith.
"I watch [current Baltimore Ravens receiver] Steve Smith every day," he said. "That's who I base my whole game off of. I feel like being a small receiver, they're quick to put you on the inside. I feel like Smith made a statement that you can play anywhere on the field and you don't need to be 6-foot-4, 220 pounds to be your ideal receiver."* *
Read the full article here.
Top Five Undrafted Rookie Free-Agent Wide Receivers in 2014
*Wilson caught one of the Chiefs' longest deep balls of the season at home against the Oakland Raiders. *
In the Chiefs' third-to-last game in 2014 against the Oakland Raiders, quarterback Alex Smith hit Wilson down the middle of the field for 48 yards, all of which came through the air.
Wilson was a quarterback in high school. Wilson attended high school in Port St. Lucie, Florida, playing at the quarterback position for his high school.
He totaled 2,631 all-purpose yards and 22 touchdowns as a senior, which earned him the Scripps Treasure Coast Newspapers All-Area Offensive Player of the Year award.
Wilson's tremendous high school career earned him the offer to Georgia State, where he would excel and eventually later sign with the Chiefs as an undrafted free agent in 2014.
Photos from the 2014 season of Albert Wilson