Kansas City Chiefs' Head Coach Andy Reid, along with recent free agent signees cornerback Antonio Hamilton, offensive lineman Mike Remmers and quarterback Jordan Ta'amu, spoke with the media via conference call on Thursday afternoon to reflect on the offseason thus far.
Here are five things that stood out from the call.
1. Reid began the call by commending those combatting the COVID-19 crisis, from those directly impacted by the virus to medical professionals.
"Our hearts go out to everyone who has suffered due to this son of a gun. I know it's a crazy time right now, and to all the front-line people that are out there working on this thing, I just really appreciate them," Reid said. "I've checked on our players, and they're doing OK. Our coaches are doing well so far, too."
Reid went on to explain how the coaching staff is operating with training facilities across the NFL currently closed.
"We're doing everything from home, and it's worked out OK. We've been off here doing this for a couple weeks now, so it's interesting for old guys like me learning all this new technology. These young guys go right through it," Reid said. "We've been able to talk to incoming players - guys who are in the draft - through WebEx, so that has been beneficial. Other than that, we've been doing our scheme evaluations. The defense [virtually] gets together with [Defensive Coordinator Steve Spagnuolo] and the offense gets together with [Offensive Coordinator Eric Bieniemy], and we bang out what went on last year and what we'd like to do this upcoming year. It's been good. We do that daily and it has worked out OK."
Reid later mentioned that the team is working through some different potential scenarios of how to handle the NFL Draft selection process later this month. For now, Reid shared a photo of his workstation in his basement at home.
2. Reid also briefly discussed the Chiefs' three free agent signees thus far this offseason.
"We're excited about all three guys. Remmers' wife actually just had a baby, and we welcome him aboard. He'll add some senior leadership into that offensive line group," Reid said. "[In regard to] Jordan, I sure liked what I saw on tape and on TV from him. He looks like a talented kid and I'm looking forward to getting him on board. I think all three guys will help us and give us good depth. Remmers, obviously, has more NFL experience than the other guys, so he'll compete in there for that group."
3. For Hamilton, playing at Arrowhead Stadium has been a goal for quite a while.
The four-year veteran began his career with the Oakland Raiders, allotting him with an opportunity to see the Arrowhead faithful early and often. Unsurprisingly, he was impressed.
"I initially signed with Oakland, and being around Arrowhead Stadium and playing the Chiefs, I thought to myself, 'Man, one day I hope one day I have the opportunity to play in front of those fans.' So, I'm excited to be here."
Hamilton later went on to explain that the Arrowhead experience is special and that he can't wait to be a part of it.
Hamilton was a special teams' ace for the New York Giants over the last two seasons, grading out as the sixth-best special teamer in the NFL last season among those to play at least 80 percent of special teams' snaps, according to Pro Football Focus. He hasn't played much on defense in his career, but the Giants provided him with a chance to start in Week 17 of last season and he played well, allowing just two completions in coverage while tallying four pass-breakups.
"[That] reminded me of who I am and the type of player that I am," said Hamilton when asked about that game. "When you give me an opportunity to go out there and play without any subbing or rotating – giving me a chance to lock into the game – that's what I can do for you. No matter who the opponent is, I can do that for you and that's the type of player that I am."
With that mentality in mind, Hamilton was asked how facing Chiefs' quarterback Patrick Mahomes in practice will help his development defensively.
"I'm looking forward to it. When you have a top-tier quarterback like that, you want to go up against them because it's only going to make you better," Hamilton said. "The type of throws he's able to make, the way he's able to look certain defenders off and fit balls in where they're not [usually] made, you want to go against those guys. It's only going to elevate your game. That opportunity alone is a blessing and I look forward to it."
4. Remmers, who was actually Hamilton's teammate in New York last season, also seemed excited to be joining the defending Super Bowl champions.
"They had a little bit of success last year," Remmers said jokingly. "Huge year for them last year and when my agent called me and said I had an opportunity to play there, I jumped at it," Remmers said. "I'm extremely excited to see what it's like in the meetings, the locker room and on the field. I want to see what the chemistry is like in person."
Remmers was also excited to be joining Mahomes, who he has admired from afar.
"I mean if you watch his highlights it's like every week, 'What the heck, he did that?' Every week, he's doing something crazier than the last. He's a heck of a player, he moves really well, and he flings the ball like crazy. He's just a heck of an athlete," Remmers said. "I'm just extremely excited to meet him in person, see what he's like in the locker room and in the huddle just to see how he operates. It's been great watching it and now I'm excited to be playing with him."
Remmers, who started 14 games at right tackle for New York in 2019, has been also been a versatile player throughout his career with starts at every position along the offensive line with the exception of center.
"I've been able to play multiple positions, and I think that will help me in the long run. It's always nice being able to play more than one position," Remmers said. "I'm not sure what the future holds, but I'll be ready for whatever they ask me to do."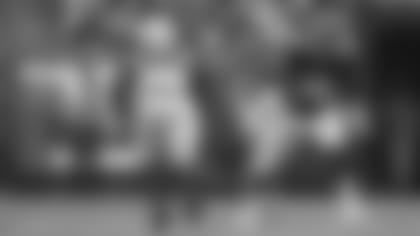 5. Ta'amu saw the Chiefs as an ideal place to continue his development as a quarterback.
The 22-year-old Ta'amu was one of the top players in the XFL, leading the league in completion percentage (72.4 percent) while ranking second in yards-per-attempt (7.8), third in both passer rating (101.3) and passing yards (1,050) and fourth in touchdowns (5). He also chipped in 217 rushing yards on 41 attempts to lead all XFL quarterbacks.
The season then ended after five games, providing Ta'amu with an opportunity to explore a chance in the NFL.
"After the XFL season ended, my agent and I were just waiting to see what teams would try and pick me up. I felt like the Chiefs were kind of in my alley just because of how the offense is and all the great things I've heard about Coach Reid and that quarterback room," Ta'amu explained. "We figured this would be the best opportunity for me to stick, learn and keep growing."
Ta'amu didn't have much experience as a starting quarterback prior to the 2019 NFL Draft, logging just one full season as the starter at Ole Miss, but after going undrafted, Ta'amu believes his experience in the XFL provided decision-makers with a body of work demonstrating what he could do on the field.
"I think what scared a lot of coaches was that I was young and didn't have much experience, so I think the XFL helped me a lot," Ta'amu said. "I was able to get that experience playing with a bunch of professionals and show that I could hang with the bigger guys – that I can move, throw and be accurate. So, the XFL helped me to showcase every talent that I have and to prove that I can play."