Kansas City Chiefs' Head Coach Andy Reid spoke with the media via web call on Friday afternoon as the team continues its virtual offseason program.
Here are five things that stood out from the call.
1. Reid began by talking about the Chiefs' virtual offseason program and how it has been going thus far.
"Because we can't go on the field, the coaches have used unique tools with [the players] as far as maybe calling on a player to do an install - to install a play - or whatever it might be. For us, it's given all our coaches an opportunity to do installs as we go, just to keep the focus of the player and to keep it fresh," Reid said. "Other than that, it's been great. Phase three for us, we're kind of keeping the same schedule that we had before - for the most part - to this point. We're going from two installs to three installs and then we work from there. But again, we're still not able to be on the field."
2. He was later asked specifically about the Chiefs' rookies and how they're being brought up to speed virtually.
Rookies generally have the opportunity to work with coaches one-on-one prior to sessions that include the entire roster, but due to the current virtual climate across the league, all rookie minicamps shifted to an online format. Though despite the circumstances, Reid and his staff have been doing everything they can to prepare the Chiefs' rookie class for the NFL.
"We try to keep this time consistent. [The coaches have] a two-hour period with the veterans. With the rookies, you have a five-hour period that you can work with them," Reid said. "We try to work in a couple extra hours for the rookies to meet. We were originally doing it with [Special Teams Coordinator/Assistant Head Coach] Dave Toub and the coaches, so Dave got [to do a] little bit of special teams' introduction with the guys. Then the coaches got them for a nice block of two hours. You've got that extra time, and our coaches use that."
Reid continued by describing how the coaches are using that additional time with the rookies.
"They've gotten with them, and in some cases, just one or two guys in a room or whatever. We're calling these rooms but [we're] doing it this way here virtually. They get that time, and right now for those kids, that time is important and your attitude and approach to that is important," Reid said. "Are you going to stay awake looking at this screen? Are you going to stay awake? We make them have their face showing and not click off the camera, so we see them. That's a little interaction there. One of the things that we teach the guys is that when the coach is talking, try to make eye contact with him if you're not writing something down so that you stay focused on it. Whether it's on the field or in a meeting, eyes up and on the person that's speaking. So, these guys are doing that. We're at 100 percent participation, and they're cranking. They're going, and I've been very happy with that and with their approach. So far, so good."
3. With that program in mind, Reid discussed what he's learned about Kansas City's rookie class during his short time with them.
"I have staff meetings and I still ask about the players and who's doing well and predominantly the rookies as far as learning. I think if we can overemphasize the learning part of it now - not that we don't but we can really emphasize that now - there's a chance that eliminates just an inch of that angst when they're on the field where they can perform athletically or physically to the best of their ability," Reid explained. "We're kind of putting the hammer down on that, working it and emphasizing it to the player. I'm getting good reports back from the coaches on the rookies. The guys are working their tails off right now. The coaches give quizzes and all of those things, too, so you get an idea of the feedback. I'd also go, 'Hey why don't you explain to the guys [a certain play]. Take us through it and detail it'. So, you get a feel there on exactly what they know. Then with the rookies, you've got a couple extra hours that you can work with them. The coaches have a little log time in there where they can get the rookies aside and visit with them."
4. Away from the field, Reid gave quarterback Patrick Mahomes some advice before he gives a virtual commencement speech to Texas Tech's graduating class on Saturday.
Mahomes, a proud Texas Tech alum, will deliver the commencement speech at the school's virtual graduation ceremony on Saturday. It's a big responsibility, but Reid expects the reigning Super Bowl MVP to be just fine.
"I think it's a real neat thing that he's having an opportunity to do [that with] Texas Tech. He's passionate about sports, he's passionate about Tech and I think it's a neat thing that he'd have that opportunity to do it," Reid said. "Pat's a pretty cool cucumber there. He's a sharp kid and speaks well so I think he'll have a nice presentation for them. The main thing is just to relax and enjoy the moment and what a great experience it is."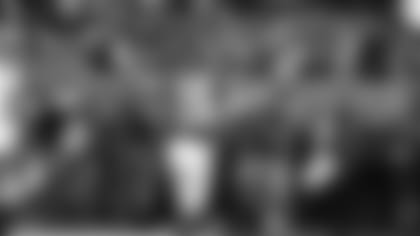 5. Lastly, Reid gave his thoughts on the rule change proposal that would give teams the opportunity to retain possession following a score by converting a 4th-and-15.
Here's a look at the idea, which was proposed by the Philadelphia Eagles and will be voted on during the virtual league meetings.
"…to provide an alternative to the onside kick that would allow a team who is trailing in the game an opportunity to maintain possession of the ball after scoring (4th and 15 from the kicking team's 25-yard line)."
And here were Reid's thoughts on the proposal:
"Listen, I don't know if it's going to pass or not. I know the special teams' coaches aren't real big on that. It obviously takes away one of the elements of theirs, and it's also the kickoff - which has been under scrutiny here - and kickoff returns. To keep the integrity of the game, you'd like that part of it," Reid said. "On the other hand, if it does pass, we've got a guy that can do 4th and 15s. He'd give us the opportunity to be able to do that. So, I've got kind of mixed thoughts on it. Being an old guy, I'd probably stick with the integrity of the game as it sits right now, but I can also see where the other part could be exciting too."
Check back next week for more media availability as the Chiefs' virtual offseason continues.