The Kansas City Chiefs' time at training camp up in St. Joseph may be over, but practices are still in full swing at the training facility this week with preseason action set to continue this Saturday night at Arrowhead Stadium against the San Francisco 49ers.
Following practice, Head Coach Andy Reid provided a quick injury update. Linebacker Breeland Speaks (knee), tight end Deon Yelder (ankle sprain), wide receiver Gehrig Dieter (back), cornerback Michael Hunter (groin), and tight end John Lovett (shoulder) didn't practice on Tuesday due to injury.
Wide receiver Tyreek Hill also didn't practice due to personal reasons and safety Tyrann Mathieu (shoulder) partially practiced.
In a handful of roster moves, the Chiefs placed wide receiver Marcus Kemp on Injured Reserve, waived wide receiver Davon Grayson and offensive guard Abdul Beecham, and signed guard Jeff Allen, wide receiver De'Anthony Thomas and wide receiver Jalen Tolliver.
Tolliver is entering his second season in the NFL after appearing in three games with the Arizona Cardinals last season, hauling in three catches for 37 yards. Allen and Thomas, meanwhile, are already quite familiar with the Chiefs' locker room. Allen played in 10 games for Kansas City last season – his second stint with the Chiefs after appearing in 44 contests from 2012-15 – and Thomas has spent his entire five-year career with Kansas City thus far.
Both players are now back with the Chiefs once again.
Here are five things that stood out from Tuesday's media availability, which included Reid, Allen, quarterback Patrick Mahomes and defensive end Frank Clark.
1. Reid kicked things off by discussing the experience that both Allen and Thomas bring to the offense.
"There's that senior leadership [because] they've been through it before. They know the offense," Reid said. "Jeff has been here since my first year and [Thomas] came just a little bit after that, so it's good to have them back out here. They're out here competing and working to make the football team."
Allen was suiting up for Kansas City as recently as the AFC Championship game, playing five snaps on special teams, while Thomas appeared in five games for the Chiefs last season before suffering a season-ending leg injury in October. Prior to the injury, Thomas carved out a valuable role as a jack-of-all-trades, demonstrating an ability to contribute on offense and on special teams as both a return man and a gunner.
And now 10 months after his injury, Thomas is healthy and ready to go, according to Reid.
"He's been working out doing track workouts, so he's in pretty good shape right now," Reid said. "His leg looks good – that was the concern – but he's done well with it."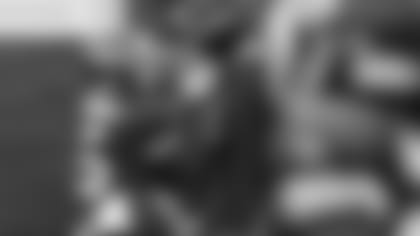 2. Aside from the new additions, Reid also shared his thoughts on how he feels about the Chiefs' progress as a whole right now.
"I love the attitude and the work that they're putting in – I appreciate that," Reid said. "We still have a way to go and we need to keep working. We're doing some good things, but we need to keep building. It's early, and you have to keep your foot on the gas. You have to blank everything out, right? You have to put aside everything that you hear and go play. This group has been doing that so far and I appreciate that."
3. Speaking of progress, Mahomes was asked to talk about his goals for the Chiefs' offense during Saturday's preseason matchup with San Francisco.
"I think just having a little bit more successful as an offense. That's not necessarily scoring points, but just moving the ball and not making as many mistakes as a whole," Mahomes said. "I feel like last week, we were off here and there on certain plays, and when you're not in that perfect sync, it makes you pay in the game."
The Chiefs fell to Pittsburgh last week, 17-7, but Mahomes later mentioned that working through the kinks is what this time of year is all about.
"That's what the preseason is for," Mahomes said. "It's about fixing those things and getting ready for the season."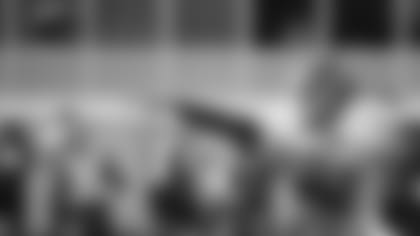 Mahomes also spoke about the additions of Thomas and Allen - each of which played with the Chiefs' signal caller at some point last year – and while there have been updates to the offense since Thomas was last around the playbook, his experience in Reid's system was already paying off on Tuesday.
"There's definitely stuff that's different than last year that he'll have to learn, but the good thing about it is with him being here last year, he got to see all of the base stuff," Mahomes said. "When we went back to those base plays, he was able to get in there and get some work in."
And with Allen, Mahomes sees a guy who he knows can be relied upon up front.
"He's a great guy – a veteran guy – who understands the offense. He's a guy you can trust in there, so I'm glad to have him back," Mahomes said. "You know he's going to get after it, and he's a lot of fun to have in the locker room, as well."
4. On the other side of the ball, Clark talked about his experience taking the field for the first time in a Chiefs' uniform last Saturday
"There was a lot of anticipation to get out there with my guys – I've been practicing with them all spring and summer," Clark said. "To finally get out there and enjoy myself with my teammates in my natural football habitat was amazing."
Clark showed off some of his trademark speed around the edge during limited work in the contest while fellow defensive end Alex Okafor tallied a sack. It was an encouraging sign from a defense that underwent some major changes this offseason, and according to Clark, that work is still very much underway.
"We're not ready yet, but we will be," Clark said. "That's why we have two more weeks of preparation. We have to fine-tune a few more things, throw some plays out and add some new things in – you know how it goes. We're still in training camp. We went home, but we're still in training camp and we're still fine-tuning everything. I feel like these next two weeks are pivotal…After that fourth [preseason] game, you give the coaches some time to think – especially somebody like [Defensive Coordinator Steve Spagnuolo] – and he'll have everything together for us."
In addition to his obvious ability on the field, Clark also shed some light on his leadership style during Tuesday's presser. Others have raved about the energy Clark brings to the field and it's easy to see why when listening to the veteran pass-rusher speak about his approach.
"I talk to everybody the same – whether you're an undrafted guy or a third-round pick like my boy Khalen [Saunders]," Clark said. "As an upper-round guy, you have to know what's expected of you. You're coming into this program and you're expected to play and help this team win. At the end of the day, you have to know your expectations and live up to that. As one of those lower guys, everything comes with preparation. You have to stay true to yourself and know that everything isn't going to happen overnight. It's going to take a little bit more of a grind, a little bit more film and a little bit more of staying after practice so that your coaches can notice you and that hard work you're putting in."
5. Finally, Allen explained what it was like to be back out there for the Chiefs on Tuesday.
"It feels awesome. It feels like I never left – it hasn't been that long, to be honest," Allen said. "It's just a good time in my life for me and my family. We felt like this was an opportunity where I get a chance to win a Super Bowl with a great organization and with great people that we love. Good teammates, good coaches, the front office – everything."
Allen was later asked what he's been up to this offseason, and he had a unique answer.
"I've been training with my trainer back in Dallas – Duke Manyweather – and making cookies," Allen said.
Allen was alluding to his wife's cookie business - which he assisted with this offseason – but as of Tuesday, his second career is on hold once again in favor of a run at the Super Bowl.
The Chiefs return to practice on Wednesday in preparation for Saturday's contest at Arrowhead.