It was early in the fourth quarter and the score was close. The Chiefs were on the road and holding a six-point advantage over the Atlanta Falcons.
While it may have only been a preseason game, for one undrafted rookie linebacker, Ben Niemann, this was the time to show his coaches, teammates, and also his football-loving family, that he could make game-changing plays in the kinds of moments that required them at this level.
It's the type of thing he's been able to do since he was scoring touchdowns as a standout running back for the Indianola Dolphins as a fourth-grader growing up in the small Iowa town just south of Des Moines.
But this time around, the stakes were higher than a postgame high-five and the choice of where they'd eat after the game.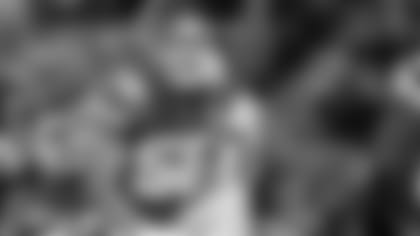 Here was the situation. The Falcons were facing a second-and-9 from their own 21-yard line, and that's when Falcons' quarterback Kurt Benkert—another young player trying to show what he can do in his limited opportunities—tossed a pass across the middle that was intended for his running back.
Niemann, who had dropped into coverage and was responsible for the running back, read Benkert and flowed to where his eyes were taking him.
Benkert was hit as he threw and the pass was sent in the direction of Niemann—the former Iowa Hawkeye standout, who returned it 21 yards for the touchdown.
Exclamation point. He had done it again.
You see, this wasn't the first standout play of the preseason for Niemann, who already had a key fourth-down stop inside the red zone the week prior when he led the Chiefs with five tackles against the Houston Texans.
Hours later and 850 miles to the Northeast of Mercedes-Benz Stadium in Atlanta, where the play had taken place, Jay and Lou Ann Niemann—Ben's parents—were watching the replay of the game at home on their computer. They couldn't watch it live and they already knew what happened, but it didn't take anything away from the excitement of watching it for the first time with their own eyes.
"In all honesty, she went nuts," Jay laughed when describing Lou Ann's reaction of seeing the play. "The computer about fell off the stand and she gave me a shoulder block. She was up screaming and hollering. We were ecstatic. It was a lot of fun.
"At that point, we were totally parents and there was no coach in me at that moment."
Jay, who is a longtime college coach and currently the defensive coordinator at Rutgers, has brought football around their family for both Ben and his brother Nick's entire life.
Nick is currently a linebacker at the University of Iowa.
Whether it was in Iowa, Illinois or Texas—all places the Niemann family has moved with Jay's coaching opportunities over the years, the game of football has always been special to their family.
"As far back as I can remember, honestly," Niemann laughed of when he was first interested in playing football. "I wanted to play at the earliest age possible. The minute I could play flag football or put on the pads, I was into it."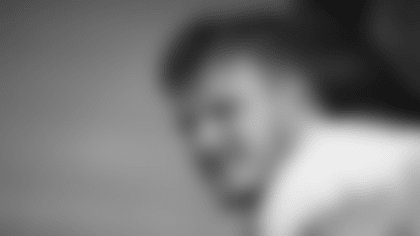 Despite a father who obviously loved the game—dedicating his professional life to the game for the past 30-plus years—Ben never felt pressure to play football growing up.
"He's really good about having me and my brother both just do what we want to do. He wasn't forcing us into (football)," Niemann explained. "Obviously, we grew up around it and it was something we both wanted, and I think he's happy with it."
Ben grew up going to his dad's practice and camps, and it didn't take long before Jay noticed that Ben had abilities that kids his same age didn't necessarily have.
"Things seemed to come a little easier to him than maybe they did some other kids," Jay explained. "He's been blessed in that way in that he has that "it" factor built into him somehow, some way. I don't know if that's just through being around the game as long as he has, or if that's just how God made him.
"He just seemed to have a good knack for the game and what was always going on around him," he added.
Whether it was a 60-yard touchdown run that came out of nothing on an option play when Ben was playing quarterback as a nine-year-old for the Indianola Dolphins, or a few years later when they were living in Abilene, Texas, and Ben, who was again playing quarterback, had to scramble and get the ball into the end zone in an end-of-game situation, which he did and found the open receiver for the game-winning touchdown, it all showed the same thing.
"He had to make some decisions that just can't be coached," Jay explained. "It was probably more than a lot of kids other could handle. It told me a lot about him having that extra sixth sense of what to do and when to do it, and then having the playmaking ability to actually go and do it."
Growing up, Ben played quarterback before moving on to receiver and safety once he got to high school, and that ability led him to the University of Iowa, where he was one of just three true freshmen to see action for the Hawkeyes in 2014.
Niemann finished his four-year college career with 201 tackles and played in 40 games over his final three years—twice being named to Iowa head coach Kirk Ferentz's Leadership Council.
With some good feedback from agents and scouts heading into the NFL Draft last Spring, Niemann was optimistic about being one of the 256 players to have their names called over the course of the three-day event.
"We thought he had a chance to be drafted," Jay explained. "They felt he was draftable but it just didn't work out that way. We told him, 'You can take it one of two ways: you can let it beat you down, or you can use it as a challenge,' and that's obviously what he's done."
Niemann, who had multiple options on where to go, chose to sign with the Chiefs. 
"They laid it all out there," Jay explained of the process, which saw heavy involvement from Chiefs' inside linebackers coach Mark DeLeone, as well as Assistant Head Coach and Special Team's Coordinator Dave Toub. "He just felt really comfortable with them and the plan they had for him.
"It's just worked out really well so far."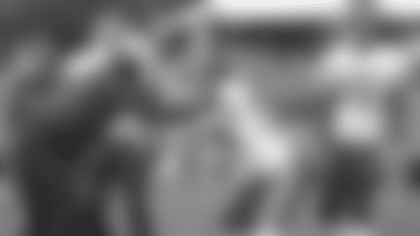 After a few months of practices and just a handful of games, Niemann has already really impressed those who first took interest in him.
"He has a lot of veteran characteristics," DeLeone recently noted. "You tell him to do something, and he just goes out there and does it."
"He's someone I can trust," Toub explained just last week. "He's beyond his years…nothing is going to hold him back."
Those are big words from two coaches who know what they're doing and are among the best at what they do.
"He's grown a lot," said fellow Iowa alum and starting inside linebacker Anthony Hitchens of Niemann over the last couple of months. "He's picking it up quick. Being from Iowa, I just know what they do there. They run a lot of stuff, do a lot of checks, and it's Pro Style. You have to give credit to Kirk Ferentz and the coaches for getting us ready for the NFL.
"It's run like the NFL up there, and [Ben] has also just been blessed with some good instincts."
Niemann, who knows he's far from truly achieving anything—despite some standout plays during the preseason—also doesn't take lightly the number he's been wearing since first joining the Chiefs.
The No. 56 is special to every generation of Chiefs' fans who have watched Derrick Johnson—the franchise's all-time leading tackler—don that number for the past 13 years as one of the most beloved players in recent memory.
"He's maybe a future Hall of Famer," Niemann explained of Johnson, whom he said he hasn't met or spoken with but has a tremendous amount of respect for. "It's definitely cool that I get to wear that—it's special."
With his focus on making the Chiefs' 53-man roster, which has to be set by Saturday afternoon at 3:00 p.m. CT, Niemann remembers the advice his father gave to him a long time ago that has always stuck with him.
"Go at whatever task is in front of you with a full head of steam," he recalled. "And if you're going to do something, be fully invested into it and let the chips fall where they may."