Three former members of the Kansas City Chiefs were named finalists for enshrinement into the Pro Football Hall of Fame last week as cornerback Albert Lewis, defensive end Jared Allen and cornerback Darrelle Revis each took one step closer to Canton.
Lewis, Allen and Revis were three of 15 "Modern-Era" finalists for the Pro Football Hall of Fame's 2023 class, which will be officially announced on Feb. 9 during the NFL Honors ceremony. The Selection Committee may elect up to five former players from the group of 15 finalists.
This marks Lewis' first time as a finalist following a tremendous playing career that spanned 16 seasons. He spent the first 11 years of his career in Kansas City from 1983 to 1993, tallying 38 interceptions – the fifth-most in franchise history – across 150 games. Lewis recorded at least four interceptions in six of those seasons, which marked the third-most such seasons of any player during that span.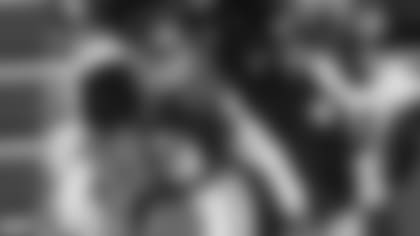 Allen is a finalist for the third-straight year after a dominant, 12-year career that took place from 2004 to 2015. He spent only four of those seasons with the Chiefs – entering the league with Kansas City in 2004 before joining the Minnesota Vikings through a trade following the 2007 season – but his time was certainly memorable. Allen recorded 43 sacks during his brief tenure with the Chiefs, leading the league in that category with 15.5 in 2007. His 43 sacks in that span trailed only Jason Taylor (who had 46) among all players.
Finally, Revis assembled the bulk of his resume during a 10-year career with the New York Jets, Tampa Bay Buccaneers and New England Patriots, but it's worth mentioning that his final season as a professional was with Kansas City in 2017. Revis joined the Chiefs midway through the year and appeared in Kansas City's final five contests.
All three players are deserving of professional football's greatest honor, and in just a handful of weeks, we'll learn if there will be one or more former Chiefs headed to Canton.