After 17 seasons in the National Football League, former Chiefs tight end Tony Gonzalez has officially announced his retirement from the game of football.
"On behalf of the entire Chiefs family, I want to congratulate Tony on an incredible career," Chiefs Chairman and CEO Clark Hunt said. "What he was able to accomplish during his time in the NFL is truly remarkable, and I have no doubt that Tony is a first-ballot hall of famer. We were very blessed to have him in a Chiefs uniform for 12 seasons, and his contributions on and off the field were extraordinary and will never be forgotten. I want to thank Tony for his time in Kansas City and wish him the best of luck in his future endeavors. He will always be considered a part of the Chiefs family."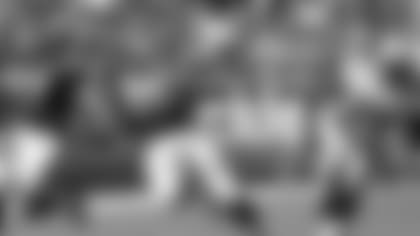 Gonzalez (6-5, 247) has played in 270 regular season games with 254 starts in his 17 seasons with the Kansas City Chiefs (1997-08) and Atlanta Falcons (2009-13). The 13-time Pro Bowler owns NFL career records for tight ends with 1,325 receptions, 15,127 receiving yards, 111 receiving TDs and 31 100-yard receiving games. While in Kansas City, Gonzalez caught 916 passes for 10,940 yards with 76 receiving TDs and 26 100-yard games, which stand as the highest totals of any player in Chiefs history in all of those respective categories.
The Huntington Beach, Calif., native saw duty in 188 regular season games for Kansas City, only G Will Shields (224), K Nick Lowery (212) and P Jerrel Wilson (203) played in more games. He started 174 games, a figure that ranks second in franchise history behind only Shields (223). He caught a least one pass in a franchise-record 131 consecutive games while with the club. He finished his career with 211 consecutive games with a reception. Gonzalez earned 10 Pro Bowl berths as a member of the Chiefs. He was also selected first-team All-Pro by the Associated Press on five occasions with the Chiefs. He is the only Chiefs TE to have ever been selected to the Pro Bowl.
The University of California product became the first tight end in league history to produce 16 consecutive seasons with 50 or more catches. He is the only tight end in NFL history to produce four 1,000-yard seasons, all of which came while he was in Kansas City.
Gonzalez was the recipient of both the Derrick Thomas Award as the Chiefs MVP in 2008 and the Mack Lee Hill Award as a rookie in 1997. He concluded his career in Kansas City with a franchise-record 10,954 yards from scrimmage and ranks second in team annals with 76 touchdowns behind running back Priest Holmes (83). Gonzalez racked up 462 career points with the club.
He came to Kansas City as the club's first-round draft choice (13th overall) in 1997. Gonzalez was traded to the Atlanta Falcons on April 23, 2009.
Click here for the Thank You Tony Gonzalez Photo Gallery.