Their playing days may be over, but a pair of former Kansas City Chiefs are still striving to make a difference in the lives of those that sacrifice so much for our country.
Former Chiefs' fullback Tony Richardson and linebacker Donnie Edwards, along with former New York Giants' wide receiver Amani Toomer, will be doing just that as part of a week-long visit with U.S. service members and their families on military bases throughout Japan.
The visit is yet another chapter in the partnership between the NFL and the United Service Organization (USO), which has sent more than 250 players, coaches and executives to visit troops around the world for over 50 years.
The USO seeks to establish a connection between those in uniform and the grateful country that's waiting for them back home. A visit from three highly-decorated former football players certainly accomplishes that goal. 
Throughout the week, the players will visit multiple installations – meeting with Airmen, Soldiers, Marines and their families - while observing missions ranging from crash and rescue to engineering. They'll also take part in a military dog demonstration, visit an air defense artillery unit and receive an up-close look at an aircraft.
It's a trip that will provide multiple opportunities for the players to thank those that work so hard to defend our freedom, so it's fitting that a couple of former Chiefs will be leading the way.
The Chiefs have a rich history of honoring our Armed Services throughout the years, illustrated through numerous base visits, scholarships for Gold Star families, the annual Pros vs. GI Joes event and more than 50 years of supporting the Marine Corps' Toys for Tots collection at a home game.
The franchise has announced its Day 3 draft selections from a military base in each of the past three years, and has held an official Military Appreciation Day at training camp in each of the past five years. 
It's a commitment that's as part of the Chiefs as the game itself.
Both Richardson and Edwards are quite familiar with that, playing a combined 19 years in the red and gold. Richardson, who was enshrined as the 46th member of the Chiefs' Hall of Fame in 2016, spent 11 years in Kansas City from 1995-2005. He paved the way for multiple 1,000-yard rushers during his career, earning three Pro Bowl nods and establishing himself as one of the best fullbacks to ever play the game.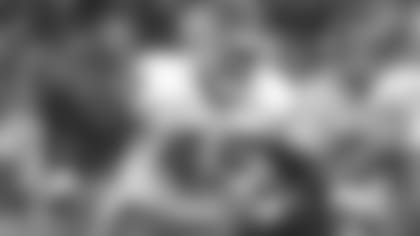 Edwards, meanwhile, came to the Chiefs as a fourth-round draft pick in 1996 and went on to spend the first six years of his career in Kansas City. He joined the San Diego Chargers prior to the 2002 season but returned to the Chiefs for the final two years of his career from 2007-08. His 876 tackles rank fifth all-time in franchise history.
Both players represented Kansas City with class throughout their time on the field, and they'll soon have a chance to do so off of it.