A good portion of the Kansas City Chiefs' fanbase already knows what he's about.
Byron Pringle—the two-time All-Conference player at Kansas State—led the nation last year averaging 25.2 yards-per-reception (28 receptions, 705 yards, 6 touchdowns), and he was one of 14 college free agents the Chiefs signed following the 2018 NFL Draft.
Besides being a dynamic receiver, Pringle also brings return ability—averaging 27.6 yards per kick return with two touchdowns during his two years in Manhattan.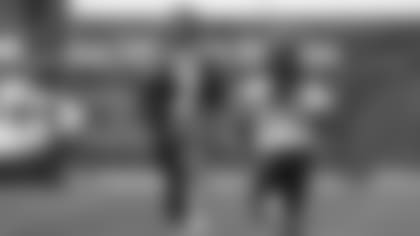 Many pundits thought Pringle could be selected late in the 2018 NFL Draft, but upon having his choice on where to begin his professional career after going undrafted, Pringle chose the Chiefs.
This past weekend at rookie minicamp, Pringle, who made several plays during the three days of practices, spoke about his relationship with Chiefs' receivers coach Greg Lewis, who has already made an impact on the young playmaker. 
"He's a funny guy," Pringle noted. "He criticizes you, but it's also constructive. I like that approach instead of beating around the bush and just telling you that you're great. He actually tells you what's going on."
Before the draft, Pringle had a private workout for the Chiefs following his Pro Day and came away with a positive feeling, so when they called after the draft, he felt comfortable.
"When the Chiefs called me, I knew they believed in me," he said.
Pringle didn't watch the NFL Draft. He actually spent the Saturday of the draft with family at a party for his nephew, although he did have his phone on him in case he did get that call, which he understood as a 24-year-old with a past might not come until the draft was over.
"I was hoping for the best but preparing for the worst," he said. 
Pringle, who said he fielded "several" calls after the draft, believed in his chances with the Chiefs—a team he was also already somewhat familiar with thanks to his college roommate. 
While at K-State, Pringle lived with long snapper David Tullis, who grew up a Chiefs fan and would always be watching and talking about the team with him. 
"He'd tell me everybody on the roster's name," Pringle laughed. "Somehow, someway I think he was Andy Reid, because he knew when somebody else was coming into the game.
"I used to hear him screaming all day long—like whenever Travis Kelce would catch the ball—that's one of his favorite players."
Pringle said he doesn't know a lot about the Kansas City area, but he does know about Arrowhead Stadium after attending last year's game against the eventual Super Bowl champion Philadelphia Eagles, which the Chiefs won, 27-20. 
"It's very loud. I know that," he said. "The fans are crazy and they love this organization. It's a positive thing that I have an ability to play here."