The Kansas City Chiefs invited 40 prospects to Rookie Minicamp this past weekend on a tryout basis to see what they could do, and after showcasing their skills for coaches and executives, four of those players earned themselves a contract.
Here is something to know about each of the Chiefs' tryout signees.
1. Tailback Marcus Marshall was as productive as they come out of the backfield in college
Marshall was Georgia Tech's leading rusher in both 2016 and 2017 before transferring to his parents' alma mater, James Madison University, ahead of his junior campaign. Marshall went on to rack up 1,296 yards and 17 touchdowns on the ground over the next two years for the Dukes, averaging 5.9 yards per rush while also contributing in the receiving game and as a kick returner.  
He possesses breakaway speed and displayed it often in college, tallying five touchdowns of at least 50 yards while at James Madison.
The five-foot-10, 200-pound Marshall seems pretty excited to be joining Kansas City.
2. Speaking of James Madison alums, wide receiver Rashard Davis is the most-experienced of the Chiefs' tryout signees
Davis is entering his third season in the league after originally breaking into the NFL as an undrafted free agent with the Philadelphia Eagles in 2017. After spending the bulk of that season on the Eagles' practice squad, Davis was signed to the Oakland Raiders' practice squad prior to the 2018 campaign.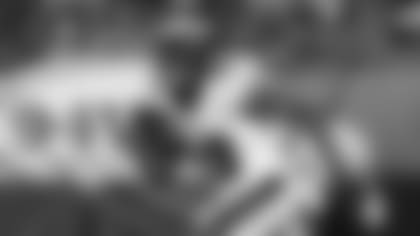 Before entering the NFL, Davis was a four-year player at James Madison from 2013-16. He hauled in 114 catches for 1,549 yards and 11 touchdowns in that time, earning a spot on the AP FCS All-American Second-Team his senior year. Davis was also a valuable player on special teams for the Dukes, receiving Colonial Athletic Association Special Teams Player of the Year honors in 2016 after returning four punts for touchdowns.
He ran a 4.47 40-yard dash at James Madison's Pro Day that year, showing off some impressive speed.
3. Safety Andrew Soroh is versatile, lining up at both defensive back and linebacker at Florida Atlantic
Soroh was a hybrid of sorts for the Owls, playing safety and linebacker over his four years with the team. He discussed that versatility with the folks at the South Florida Sun-Sentinel prior to the 2018 campaign, when he was asked to shift his primary focus from safety to linebacker.
"You have to embrace everything, no matter what position I play," Soroh said. "I'm just excited to play this game, play this sport."
The six-foot-two, 210-pound Soroh racked up 56 tackles, 5.5 tackles-for-loss and 1.5 sacks as a redshirt senior last season.
4. Another former Owl in cornerback Herb Miller also joined the secondary on Tuesday
Soroh will recognize a familiar face in the Chiefs' locker room as Miller - a six-foot-two, 190-pound cornerback – also signed with Kansas City on Tuesday after playing his college ball at Florida Atlantic. Miller amassed 102 tackles, 14 passes defensed, 4.5 tackles-for-loss, two forced fumbles and two interceptions over his four years in school.
Miller and Soroh join cornerback Keith Reaser – who re-signed with Kansas City last month after a stint in the AAF – as three former Florida Atlantic standouts in the Chiefs' secondary.