Kansas City Chiefs head coach Andy Reid generated even more excitement from the entire Chiefs Kingdom on Friday, confirming that Pro Bowl RB Jamaal Charles will be ready to go on Sunday, for the team's home opener against the Dallas Cowboys.
"He'll be ready to go. He's ready to go," coach Reid said of Jamaal, who suffered a quad injury in last Sunday's game. "He did fine (today); he did good. He moved around and feels fine."
When the sold-out crowd enters Arrowhead Stadium, it will be eagerly watching to see the rushing exploits from its favorite Chiefs Pro Bowl RB, who also spoke after practice Friday, addressing the reality of injury in the NFL.
"Things happen in the game that you can't control and it was just one of those situations," Charles said. "I hurt my quad and I couldn't control it. I'm just going out there and will be playing football this week."
One of the guys blocking for Charles is Chief OL Jeff Allen, who assessed Friday's practice, heading into the weekend.
"We call it Fast Friday," Allen said. "We want to go out there with the same tempo as we do all week, but move a little faster, be sharper and make sure everyone is on the same page and try not to have any mistakes. We try to be perfect. We have a lot of confidence. As an entire team, we played a good game last week, but it's a different week and in this league, every week is going to be a challenge. We're up for the challenge and we're going to go out and execute."
Among those also with a plan to execute on Sunday is Chiefs WR Junior Hemingway, who offered a preview of what he and his fellow receivers expect to see from the Cowboys secondary.
"They play hard back there, on defense," Hemingway said. "We have to go out there with the talent God has given us and play our game and do what we do best and use our strengths to our advantage."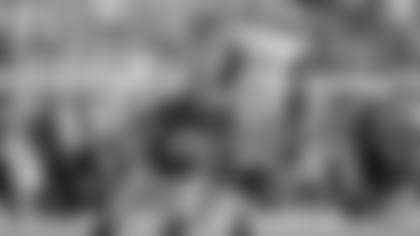 Defensively, the Chiefs have also been scheming for Dallas' offensive attack, as described by Chiefs DE Tyson Jackson.
"They're a real balanced offense," Jackson said. "They can beat you in the air or they can beat you on the ground. As a defense, we have to do a real good job at creating as many turnovers as possible and getting as many three-and-outs, to get our offense on the field and give them good field position."
Part of disrupting backfields and causing pressure on offensive threats like Cowboys QB Tony Romo, comes down to one crucial factor, according to Chiefs DE Mike Catapano.
"Discipline," Catapano said. "Especially as defensive linemen, as a pass rusher, you really have to be disciplined and stay in your lanes and be on the same page as everybody else to make sure you contain a guy like that, that can extend a play."
As for the third phase of the Chiefs, special teams coordinator Dave Toub described his group's consistent mindset, ready and waiting for any chance to ignite the Arrowhead crowd.
"Hopefully we get one in our hands at a reasonable time, to be able to get a return," Toub said.
Chiefs fans are hoping for the very same thing and ultimately a win, signifying the best way to open Arrowhead Stadium in 2013.