The Kansas City Chiefs wrapped up another week of practice on Friday, doing so in 30-degree weather, a similar temperature they may experience on Sunday, during their Week 12 matchup with the San Diego Chargers.
With a crosswind blowing, making the outodoor climate feel that much colder, Chiefs head coach Andy Reid walked off the practice field to provide the media with an injury update, as well as details of the season-ending injury suffered by Chiefs WR Kyle Williams, who was placed on IR today.
"Alright, as far as injuries go, Mike DeVito, we have listed as out with a knee sprain. Then, Eric Fisher didn't practice today; he is listed as doubtful. (Jon) Asamoah and (Tyson) Jackson both practiced full today. Kyle Williams' situation yesterday was that he practiced, the whole practice, and tweaked his knee, to where he tweaked it and never missed a play. He had that surgically repaired and he partially tore his ACL, the same ACL that he has worked his tail off to get back; so, he is going to have to have that fixed. He's done, obviously. We look forward to the challenge of playing the San Diego Chargers; we know they're a good football team. The guys worked very hard this week and got good work in. Again, we look forward to having our fans in Arrowhead Stadium. They'll welcome the Chargers in."
The Chiefs will welcome San Diego to Arrowhead, following a week of practice that Chiefs TE Anthony Fasano described in three words.
"Focused and efficient," Fasano said. "I think we put the Denver game behind us; we learned from our mistakes and moved on, because we have a big challenge in San Diego this week. We came in and tightened some things up to get ready for the Chargers."
As far as the cooler temps, Fasano says the team is well-prepared for whatever Sunday's climate will be.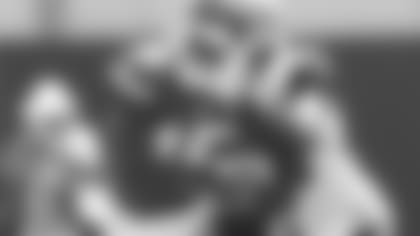 "I knew it was cold when I got up this morning and came in," Fasano said. "I think we handled it well. We were focused again. We went out there and got the work done that we needed to get done and didn't let the cold or anything get in our heads, which is what we're going to have to do on Sunday."
On the defensive side of the ball, Chiefs Pro Bowl LB Justin Houston says the team's mindset at practice this week was no different than the previous 10 weeks.
"We treated it like it's any other week," Houston said. "Every week is important; you take it one week at a time. We are just focused on the Chargers, running our game plan and getting ready for the game."
Houston says the cold weather is more of an annoyance during practice and doesn't bother him at all on game day.
"It doesn't phase me on game day," Houston said. "During practice, it's tough, but game day is a different mindset. I'm only worrying about the game. I'm not worrying about the cold; I'm more focused on the game."
The Chiefs focus on Sunday will ultimately stem from their very active week of practice, according to Chiefs Pro Bowl S Eric Berry.
"Everybody was flying around," Berry said. "We finally got outside today to kind of deal with the weather, but it's been pretty good. The Chargers have a great group and are very talented; we just have to handle our business, come Sunday."
Kansas City hasn't played in front of its record-setting crowd at Arrowhead Stadium since Week 8 against the Cleveland Browns (Oct. 27) and Chiefs Kingdom is hoping when its favorite team hits the field on Sunday, it'll walk away from it with victory number 10 in hand.
For a look at the Chiefs injury report from Friday, click here.