The Chiefs are back at Arrowhead Stadium this week! Sunday will be dedicated to honoring Chiefs alumni, those who have left a legacy in Kansas City. Many alumni will be in attendance, a few include Jan Stenerud, Christian Okoye, Len Dawson and more. 
Below is a list of everything you need to know for game day as the Kansas City Chiefs take on the New York Giants.
An hour before kickoff and again at 25 minutes prior to kickoff, fireworks will light the sky and the Tomahawk Chop will be heard throughout the parking lots and the stadium. When you hear these signals, join in on the war chant, wrap up your tailgate and head inside the stadium, as to be sure you will make it to your seats before kickoff!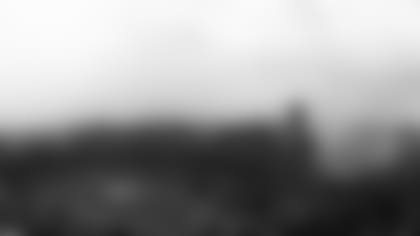 As a reminder, the NFL has implemented a new bag policy. Below is an outline of what is permissible to bring into the stadium. 
Bags that are clear plastic, vinyl or PVC and do not exceed 12" x 6" x 12." (Official Chiefs branded tote bags are available through club merchandise outlets or at shop.kcchiefs.com, or a one-gallon clear zip-seal bag (Ziploc bag or similar).
Small clutch bags that do not exceed 4.5" x 6.5", with or without a handle or strap, may be carried into the stadium along with one of the clear bag options.
An exception will be made for medically necessary items after proper inspection at the Tower Gate and Founders Gate, as well as Gates D and F.
Bags will be available for purchase at the Chiefs Pro Shop, Sprint Gate and the Hy-Vee Gate. 
For more information visit goarrowhead.com/allclear
WiFi and Chiefs Mobile App
Chiefs fans will have access to Wi-Fi inside the stadium, under the name "Arrowhead Wi-Fi"
A fully integrated mobile experience is also available through the Chiefs Mobile App. This app can be downloaded through Apple's App Store or Google Play Market for Android devices. More info here.
Sprint is providing charging stations around Arrowhead for fans to stop by and charge their mobile devices.
Parking & Stadium Gate Times
Arrive early, as it is expected to be a beautiful, sunny Sunday with a high of 76 degrees. 
7:30a.m. – Parking lots open
9:30a.m. – Scout Investments Club level gates open
10:30a.m. – Stadium gates open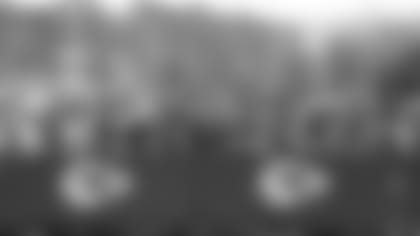 There is a lot to do, if you happen to wander away from your tailgate. Don't hesitate to check out some of the fun things that are happening around the perimeter of the stadium.
Anheuser-Busch Clydesdales
Anheuser-Busch will be bringing their famous Clydesdales to Arrowhead. They will be trotting between the Hy-Vee and Sprint Gates from 8:30a.m. - 12:00p.m.
From 8:30a.m. –12:00p.m., stop by this interactive area between the Sprint Gate and the Hy-Vee Gate.
This is a great family friendly location* *with inflatable games, a DJ, a photo booth, Ford vehicles on display and face painting. Susie and Warpaint, Chiefs Cheerleaders and KC Wolf will stop by, prior to kickoff.
Hy-Vee will have samples of Green Giant Veggie Chips, within the Hy-Vee Hot Zone.
McDonald's will have a fry truck set-up and will be distributing French fry samples in parking lot M.
Chiefs Tailgate Party presented by Bud Light
This party is located inside the Champions Room of the Pavilion, just south of Arrowhead Stadium and will be going strong from 8:30a.m.-12:00p.m.
Enjoy all-you-can-eat catering, ice-cold beverages, and a climate-controlled space to catch the pregame show. 
Chiefs Ambassadors, Chiefs Cheerleaders and KC Wolf will be in attendance to meet and greet with fans.
Interested? Buy your tickets now at PrimeSport.com/Chiefs or at the Pavilion on game day.
Follow @KCChiefs, @KCChiefs_Rachel and @KCChiefs_Reid on Twitter and "Like" the Chiefs on Facebook for a chance to win tickets to this tailgate weekly.
Located just inside of the Hy-Vee Gate, starting at 9:30a.m., the band, August Fire, will perform.
Be on the lookout for these festivities, once you're in your seats.
The National Anthem will be performed by Patti DiPardo Livergood. During this time, an Arrowhead flag will be held by 100 Chiefs Season Ticket Holders.
The first pass will be from former Chiefs FB Kimble Anders and former WR Derrick Alexander. Finally, the 43rd and newest member of the Chiefs Hall of Fame, Gary Barbaro will lead the sea of red in the war chant, as the honorary drum leader.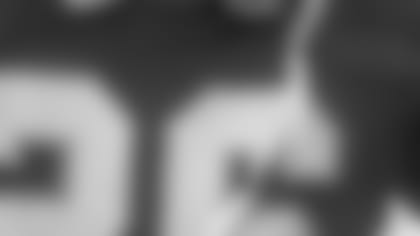 Below is the list of in-game activities and times.
11:00a.m. – All players take the field; watch for fireworks and participate in the War Chant during the first pregame signal
11:37a.m. – Watch for the second pregame signal, fireworks and War Chant, signifying there are 25 minutes left until kickoff
11:48a.m. – Susie and Warpaint enter the field
11:49a.m. – KC Wolf enters
11:50a.m. – Chiefs Cheerleaders perform
11:55a.m. – Chiefs Player Intro video and Chiefs enter the field(You DO NOT want to miss this entrance!)
11:58a.m. – National Anthem performed by Patti DiPardo Livergood
12:01p.m. – Drum Ceremony with Gary Barbaro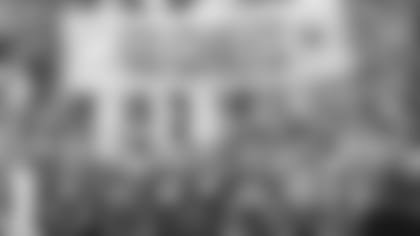 If the Chiefs record one or more sacks during the game, Big Macs will be buy one, get one free at all Kansas City and St. Joseph area McDonald's locations on Monday.
Bud Light Good Sport Winner
Fans who are also designated drivers can register for a chance to be this game's Bud Light Good Sport Winner. You can enter, prior to kickoff, in the Ford Fan Experience or inside Arrowhead Stadium in the Chiefs Hall of Honor, presented by Time Warner Cable from 10:30a.m. until halftime.
Winners are selected at random and will receive a Bud Light/Chiefs jacket. The winners will be announced on ArrowVision, during the third quarter.
This game day fundraiser provides fans the opportunity to purchase raffle tickets before and during all Chiefs home games. One lucky fan will go home with half of the net proceeds and the other half of the net proceeds will be donated to Camp Quality of Greater Kansas City, this week.
Chiefs Cheerleaders will be selling the 2014 Chiefs Cheerleader Calendar and signing autographs throughout the stadium, during the game.
First quarter in section 317; Second quarter in section 117; Third quarter in section 108 and 126; Fourth quarter at the Chiefs Pro Shop in the Chiefs Hall of Honor, presented by Time Warner Cable, in section 119 and the Chiefs Team Store in section 101.