The Kansas City Chiefs made the most of the sunshine and cooler temps, completing a morning practice at the University of Kansas Hospital Training Complex on Monday.
New on the practice fields this morning were the seven recently-claimed Chiefs players, including LB Dezman Moses, who told the media that he's ready to "dive in" with the team.
Joining Moses is fellow LB James-Michael Johnson, who described his transition to Kansas City.
"Quick and fast," Johnson said, sitting in front of his new locker. "I was just in Cleveland yesterday; so now, I have to adjust and continue to pray about it and just keep on the right path. I believe God puts people in places for certain reasons, so I just have to roll with it."
One of the places Johnson finds himself at One Arrowhead Drive is one locker down from Chiefs Pro Bowl LB Derrick Johnson.
"I've watched him for a long time," James-Michael said of DJ. "He's one of the better inside LBs in this league and to learn from someone like him is going to be great."
Also new to the Chiefs defense is CB Marcus Cooper, who described what he brings to the team.
"I'm a hard worker, first and foremost," Cooper said. "I'm going to play fast; anything they need to get done, I'm going to try and go out there and do it. I'm a cover corner and I'm prepared to press a lot of guys; that's what my size allows me to do."
WR Chad Hall is also new to KC, but has familiarity with Chiefs head coach Andy Reid, from their days together in Philly. Earlier today, Hall described how the Chiefs made him feel right at home.
"This team is great," Hall said. "They know I'm new and they'll come up and introduce themselves; everyone's been great. All the receivers are great and WRs coach (David) Culley is great; I'm excited to be here. I'm looking forward to getting out there and playing some football."
Playing football is exactly what the Chiefs will be doing on Sunday in Jacksonville, only this time, the stats count.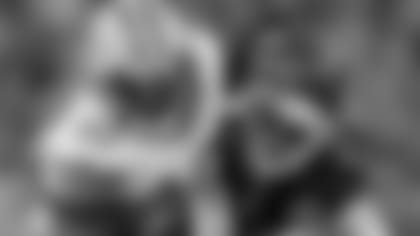 "It's the best time of the season," Chiefs CB Dunta Robinson said. "We're just preparing and doing what we can to go in there and get a win. We're doing whatever we can to get ourselves ready, mentally and physically, to make sure we're ready to go on Sunday."
Robinson also spoke to the reality of roster changes.
"10 years in this league and I haven't gotten used to that part of the game," Robinson said. "That's always the toughest part; seeing the guys that you sweat with, gone. Some players will get picked up by other teams, but some won't. All you can do is wish for the best for those guys, tell them that if it's their dream, to continue to go after it."
Dunta also shared some advice he has for his new Chiefs teammates.
"Stay focused and understand that we do things totally different," Robinson said. "We're not here just to play football; we're here to win football games. We're not here just to get a check; we're here to win football games. So, make sure you guys are ready to go help this team win."
The Chiefs will continue to work towards a hopeful win in Jacksonville on Sunday, when they return to the practice fields Wednesday.