The Kansas City Chiefs haven't played on the field at Arrowhead Stadium since December 23rd, 2012. Since that time, a lot has changed and tonight, when the Chiefs enter through the tunnel, they'll be greeted by a fan base that has been waiting to see their new-look team since January, when Chiefs head coach Andy Reid and company joined the Chiefs family.
Included in the new addition to the Chiefs family is the team's top-pick Eric Fisher.
"I'm really excited to get into Arrowhead," Fisher said. "I think I've only stepped on the field once. It's going to be a great feeling. San Francisco has a great D and we're preparing for that; it'll be a good matchup."
While Fisher may or may not be blocking for Chiefs Pro Bowl RB Jamaal Charles, whose status remains a game-time decision, he likely will be creating runways for Chiefs rookie RB Knile Davis, who's ready whenever his number is called.
"I've been working at improving everything, doing extra work," Davis said. "Now, it's just about going out there and executing."
Whichever RB is in the backfield, he'll receive blocks from Chiefs FB Anthony Sherman, who is familiar with the tonight's opponent from his days in the NFC West, playing for the Arizona Cardinals.
"Me playing the last two years against them (49ers) four times, I know them a lot," Sherman said. "They love to bring edge pressure and we're going to be tested in the blitz pick-up game tonight, but our coaches put us in such a great situation with the game plan and the plays that they call at the certain times, I think we'll be fine."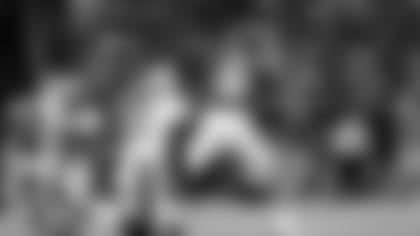 Chiefs QB Alex Smith says he's "excited" to play against his former team, including many of his good friends, some within the 49ers "tough defensive unit," Smith said.
One of Smith's favorite targets in training camp was Chiefs WR Dwayne Bowe, who will be ready when the bright lights shine.
"We have to make plays," Bowe said. "It's especially crucial in the blocking game and in the passing game, to go out there and play physical and that's being relentless and being tough."
Chiefs rookie TE Travis Kelce has been waiting for tonight's Arrowhead experience like the rest of his rookie class; he also realizes there's an opportunity at hand to make a lasting impression with the coaches and the fans.
"These games are scheduled to find the identity of the team," Kelce said. "Find who and which guys are able to fit into what spots; it's going to be a challenge, going up against a good team like the 49ers."
While Alex Smith the Chiefs offense will be tested by a proven 49ers defense, the Chiefs defense knows its hands are full with 49ers QB Colin Kaepernick and his offense.
"He's an athlete," Chiefs S Eric Berry said.
"But, he's an athlete who can throw; definitely a dual-threat QB. You can't really just take one thing away from him, because he's just going to go to the other thing. He's actually blessed with the ability to create, as well. When nothing's there, he can create plays, so when you're in coverage, you have to cover a little bit more and when you're in pursuit to get the sack, you have to use good technique, because he can beat your leverage."
Fellow Chiefs S Kendrick Lewis agrees with Berry and says Kaepernick's new weapon, 49ers WR Anquan Boldin, is also a proven threat.
"Absolutely," Lewis said. "Boldin is a veteran in this league, who has proven himself time and again; we look forward to going up against that type of talent. He's a guy that brings veteran leadership to their receiving corps."
Last, and certainly not least, don't sleep on the special teams play in tonight's game. Chiefs special teams coordinator Dave Toub talked more this week about the punt-return threat he has in Chiefs WR Dexter McCluster.
"That's why he's our punt returner," Toub said. "He can make the first man miss, and he did that against the Saints. We had a guy down there and he made them miss and it was out the gate. We had a nice wall set up after that. As a punt returner in the NFL, you're going to have to make someone miss, and he's good at that."
49ers DL Glenn Dorsey returns to Arrowhead, a place he called home from 2008-2012.
Chiefs teammates (and Central Michigan University alums) LB Frank Zombo, RT Eric Fisher and CB Vince Agnew will reunite with a fellow CMU Chippewa tonight, 49ers tackle Joe Staley.
If you're unable to make it to tonight's game, you can follow me on Twitter (@KCChiefs_Reid), as I'll tweet updates, including big plays, pictures and scores during the game.