The Kansas City Chiefs close out their three-game home stand Sunday, facing the Cleveland Browns at 12:00 PM CDT.
The Week 8 matchup will be the 12th game of the series played at Arrowhead, with the Chiefs owning a 7-3-1 record on their home field.
But the past is the past and Chiefs head coach Andy Reid is all about having his team focused for a very talented Cleveland Browns team.
"We look forward to the challenge of playing the Browns," coach Reid said. "We know what kind of football team they are. Our guys have had a good week of studying them and getting themselves ready for a good football team, coming in here. Again, we welcome them to Arrowhead Stadium. I know the fans will be out of control, like they always are, which we appreciate."
On Wednesday, Browns head coach Rob Chudzinski named QB Jason Campbell as the team's starter for Sunday's contest, which drew instant respect from the Chiefs, including Pro Bowl LB Tamba Hali.
"We know Jason is a good player," Hali said. "He's been in the league for a long time. They have a real good line; we have to stop the run. That's our focus, coming into this game is making sure we can stop the run. We worked on the things we like to get done in the game. As far as Jason, he's going to come out and he's going to do what he does and what the system requires him to do. We don't want to solely focus our attention on him, but we know that we have to affect the quarterback during the game."
The Chiefs have emphasized stopping the run all year and that goal will be countered by a strong offensive line, anchored by Browns tackle Joe Thomas.
"Joe is a Pro Bowl player," Hali said. "I've played against him since college. He's probably the best tackle in this league. He can finesse you; he can follow you and he's hard to beat around the edge. One-on-one is a battle. He's very strong. He's got good feet. He's a big guy. From a scouting standpoint, there's going to be some battles Sunday, between our guys and him and myself and him."
In addition to trying to stop the run, the Chiefs will face the Browns aerial attack, including TE Jordan Cameron, who leads the Browns with 45 receptions, 515 receiving yards and six TDs.
Chiefs defensive coordinator Bob Sutton spoke about the decision-making process when game planning against playmakers like Cameron.
"We try to figure out who can beat us and what can beat us," Sutton said. "Those are two really important questions for us and you have to have some flexibility and you can't do the same thing every play out there or they're eventually going to take advantage of you. We try to mix those things up, but 84 (Jordan Cameron) on Cleveland is a handful. I think he's really an emerging player in our league. He's highly-skilled, he has a great ability to accelerate and get into his cuts – he's an impressive guy."
Ultimately, Chiefs defensive end Tyson Jackson summarized the Browns offense that he and his teammates will face on Sunday.
"They're balanced," Jackson said. "They've got Willis McGahee at running back; they've got a real good offensive line up-front and Jason Campbell at quarterback has been in the league a long time, so we know we have our hands full with him also and they've got some talented receivers. We just have to be out there on our Ps and Qs."
On the offensive side of the ball, Chiefs QB Alex Smith expects to face a strong Browns defense, which ranks seventh best in the league in net yards allowed per game (318.9).
"Yeah, they're good on the defensive side of the field," Smith said. "Just looking at them, they're not a weak group. They're good up-front, stout. They're good on the edge and then, they're good on the back end as well, physical on the back end. They're aggressive and certainly a great challenge for us. They've played well all year."
One of the many Chiefs threats on offense to help attack the Browns D will be Chiefs WR Dexter McCluster.
Chiefs offensive coordinator Doug Pederson noted some of the ways to utilize McCluster's many skills.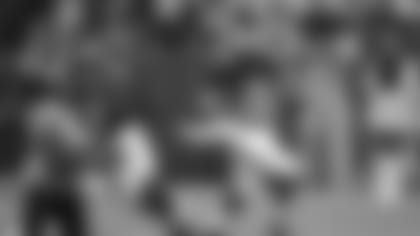 "Dex is a very explosive player," Pederson said. "Coming into this situation this year, going back and just looking at the Chiefs history, his history as a runner, he can be very explosive from the backfield as a runner. Then, you can use him as a receiver, out of the backfield; so, there are some opportunities there. Again, it just goes back to creating opportunities for our guys. Plus, it will give number 25 (Jamaal Charles) a break during the game and give him a blow and allow him to come back and allow him to be fresher, later in the game."
Whether late in the contest, early, or in the second or third quarters, the Chiefs special teams unit has the ability to change the game, even with just one play.
Chiefs special teams coordinator Dave Toub spoke about one of his talented returners for Sunday, Chiefs S Quintin Demps.
"Demps is doing a great job," Toub said. "He's putting up great numbers. With the way he's been, he's going to get at least one big return, if he gets a chance. That's the way it seems. We just have to keep hopefully getting the ball. As the weather gets colder, he'll get more opportunities."
Toub's Pro Bowl punter Dustin Colquitt discussed the strategy when punting to the Browns dynamic return man, WR Travis Benjamin, who has 20 punt returns in 2013, including 79-yard TD return.
"I'm going to try to hang the ball up," Colquitt said. "We've had good coverage all year, with all of our coverage units, so I'm going to lean on the gunners and try to hit good balls. One of things you can get in trouble quickly with him is hitting low hangs; if we do that, then we're going to have a long day."
One of my favorite quotes all week came from coach Reid, who said "the players have been just diligent" in their film study and on the practice field; Chiefs fans are hoping the hard work by both coaches and players pays off in victorious fashion.
For game updates, behind-the-scenes posts and pictures, you can follow me on Twitter (@KCChiefs_Reid).